I have never been someone that loves zucchini.  I have tried.  I have grilled it, eaten it raw, put it in salads, pretty much everything.  But, zucchini bread is a whole other story!  Since I am deathly allergic to bananas, zucchini bread is my alternative to banana bread.  I have made many recipes in search of the perfect one.  I have found it and am so happy to share it with you.
The recipe is from skinnytaste.com which has amazing recipes with tons of flavors but not tons of calories/fat.  My favorite recipe from the site is the Low Fat Chocolate Chip Zucchini Bread.  I made two loaves today and anticipate them being eaten very quickly.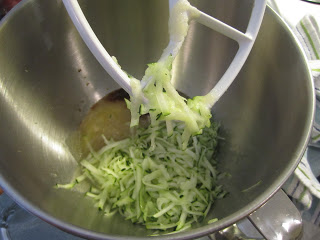 I grate my zucchini with the skin on to give more colour to the bread.
Mixture in the pan ready to be baked.  I line my pans with parchment paper for easier lifting and cleaning.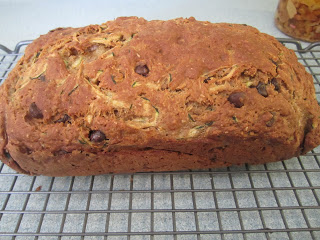 The finished product cooling.  *Note* you

MUST

bake it till it is this brown otherwise it is raw inside.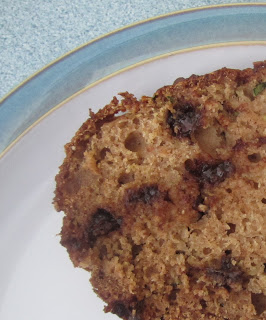 A slice of zucchini heaven
Here is the link to the recipe.  Try it, I know your family will love it!