*Note* I was not compensated for my stay at this hotel.  Nor do I receive any sponsorship from Hilton Hotels.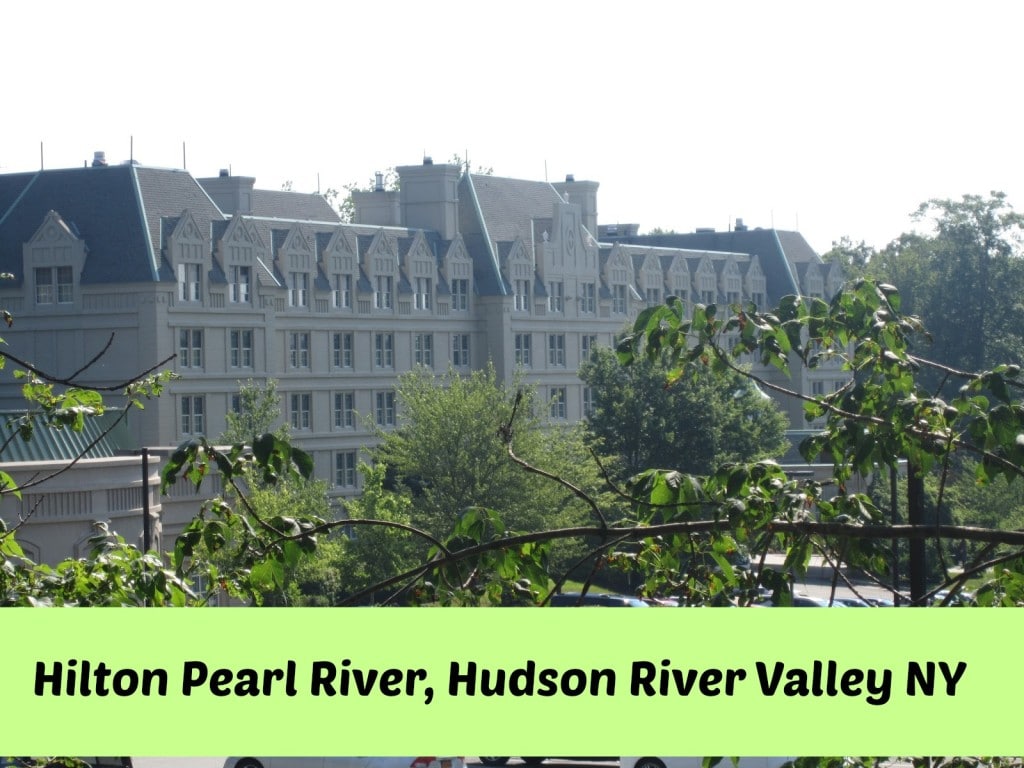 On our recent road trip we were looking for a hotel close to our favorite shopping destination, Woodbury Commons.  We wanted somewhere that had spacious rooms, was child friendly and in an area we hadn't stayed before.  My Internet searches came up the Hilton Pearl River.  Not only was it visually beautiful but a quick phone call confirmed that it had cribs available, complimentary parking, and was 20 minutes from Woodbury Commons. I took advantage of Hilton's Bed and Breakfast rate to ensure that breakfast was included and booked online. I believe that I have mentioned this before, but we like to stay at Hilton Hotels because of their Hilton Honors Program which allows us to collect their points, and our favourite airlines' points for each stay.
When we stay at hotels we usually book one King bed but opted for two Doubles this time since our children are having difficulties sleeping. The room was very spacious with lots of room between the beds and the TV.  The boys had lots of room to run, play and be silly.  There is nothing worse than being trapped in a small hotel room without room to move and twin toddlers.  However, next time, remind me to take more pictures of the hotel room and to take them before we have all of our belongings spread all over the room!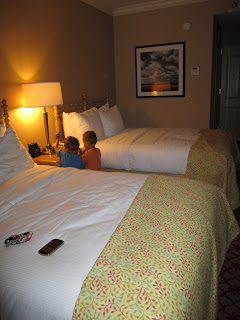 The boys like to try out every button in the room.
Their favorite in this room, the push button table lamps.
Many hotels use pack n' plays as cribs.
Our boys don't mind them at all.
The hotel provided cribs (pack n' plays in this case) and they were brought to the room and set up quickly and efficiently. As I noted in an earlier post we had to pay for a variety of add-ons at this hotel which was not something I particularly enjoy doing. I really feel that quality children's TV should be offered (not Cartoon Network) and Internet should be FREE! But alas, we were on vacation and I did in fact pay for these things.
The Hilton Pearl River is apparently very popular for weddings.  So, be prepared for that.  Although, I didn't find that there was any disruption from the weddings to us during our stay.  The hotel was quiet and so large that it can accommodate many people without feeling crowded.
While we brought our swim suits, we didn't make it to the hotel pool (despite planning to go).  Instead we had a couple of great naps and just enjoyed the room and the area around the hotel.  Do check out the hotel website for pictures of their beautiful pool and fitness facilities.
We had breakfast in the hotel daily and thoroughly enjoyed what the buffet offered.  There was something for everyone, hot, and cold items and lots of fresh options.
Once at the hotel we also found out that it was 20 minutes away from the Palisades Center which is like a city onto itself! We went there one evening for dinner and to look around. It is definitely the largest shopping mall I have ever been to. It boasts an Ice Rink, Carousel, IMAX theatre, 10 sit down restaurants, a Comedy Club, a Bowling Alley and every large and small store you could ever imagine. It is a bit overwhelming to say the least, but an exciting adventure!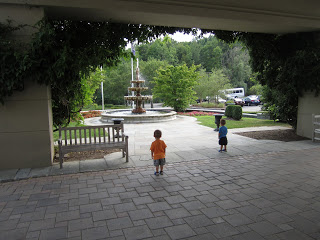 The boys loved the big fountain out front of the hotel.
On the day when we were checking out, parts of the hotel, including the lobby were being transformed into a TV/movie set.  There were makeup chairs, mannequins, trucks everywhere, and some pretty great lighting and special effects.  The show they were filming…Celebrity Ghost Stories. It definitely made me curious to know what the story was and if it took place in this hotel.  I can attest that none of our family members saw any ghosts while staying there ;)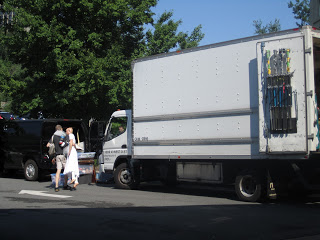 TV crew.  Note the gentleman carrying a mannequin dressed as a bride.
We thoroughly enjoyed our stay at the Hilton Pearl River and talked about coming back again the next time we are in the area. The rooms were excellent, the customer service superb and the proximity to excellent shopping made it a great destination for our family. Looking forward to our next stay at the Hilton Pearl River.  We would definitely recommend it.