I posted earlier abut our CSA farm share and how much we love it.  Now that we are back from holidays we are enjoying the bounty of our local farmer's market and our farm share.  Nothing says summer to me like fresh produce, grown locally and organically.
Here is a photo of our dinner last night:
Turkey Burgers on micro greens, Roasted beets, carrots and potatoes in olive oil and rosemary, and sauteed beet greens (in butter and garlic).
A few friends have asked how I make the beet greens.  I cut the greens from the beets and wash thoroughly.  I put them in whole into the pan (although you can cut them into ribbons) with a generous pat of butter and fresh garlic.  I cover the pan (leaving a bit of room for some steam to escape) and cook them on medium high until wilted.  I eat them because they are yummy but they are also remarkably good for you.  A number of websites cite their nutrition benefits most notably their high levels of potassium and Vitamin A.
The roasted beets, potatoes and carrots are made by cutting the root vegetables into cubes or slices, tossing in olive oil, with some chopped fresh rosemary, and a dash of salt and pepper.  I place them on a foil lined pan (for easier cleanup) and bake them at 400 until desired crispiness.  They take a long time (usually around 45 minutes) and need to be turned often.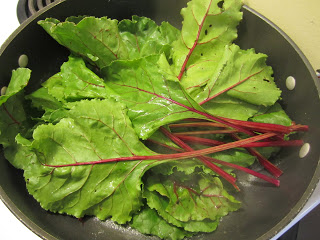 Beet Greens in the saute pan
The other gem I found at the farmer's market is the local blueberries and raspberries.  I have puchased lots of these!  I put them on greek yogurt in the morning, on salads at lunch and they make a perfect dessert.  I wish berry season lasted longer here because I could eat these every single day.
Local blueberries and raspberries