Our journey in NYC continued with a stop in Times Square.  The vibrant energy and excitement that surrounds this area of NYC is definitely contagious.  Every time that I am there I am reminded of the countless movies I have watched that take place there and the New Year's Eve broadcasts.  It is a place to be seen and experience, but I imagine if I was a New Yorker it would not be my first choice destination.  While traveling with twins in strollers through Time Square might seem like an obstacle course, it is quite manageable.  Move with the flow or traffic, obey lights, and use the pedestrian only areas wherever possible. Remember that no one gets anywhere fast in Times Square so take it all in and marvel at the lights and action.
New York City
It was a great lunch, I purchased a few fantastic new pins were purchased (more on that at a later date) and the boys found the ramp in the restaurant the perfect place to run their new trains!
I am always amazed what twins get away with.  The novelty of two seems to allow them a higher level of permission for strange and sometimes bold behaviour.  At the Hard Rock, my children took over the main ramp from one level of the dining room to the next as their own personal train track/car ramp.  The staff, patrons and other parents oohed and awed at how "cute they were" and how fun it was to see them "playing at Hard Rock."  People actually used another way to access the lower dining room so that the boys would not be disturbed.  Normally I wouldn't have allowed them to do this, but honestly they were not causing any harm, I got to eat my lunch in relative peace and no one got hurt.  A win win situation.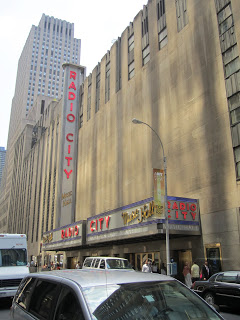 We walked past Radio City – a New York City icon.  I dream of one day seeing a performance there!
The sightseeing, the crowds and full bellies led to tired boys.   They napped for a good two hours while my husband and I walked the city and enjoyed the sights.
If you haven't had a NYC bagel, you are honestly missing out.  I have tried for the most part to cut bread out of my diet but I will happily make an exception for Ess-a-bagel.  Their bagels are pretty much a religious experience.  I have never had anything like them.  The bagels, combined with homemade cream cheese = heaven in the form of a carbohydrate. Full from our Hard Rock lunch we bought six bagels, 4 pumpernickel, and 2 nine grain to take with us.  We also purchased some cheddar cheese and jalapeno cream cheese to top our hand-rolled bagels.  While I am pretty sure the decor has stayed the same since 1976 when Ess-a-bagel opened, but no one cares.  It is the bagels, and the various toppings that make this store voted one of the best bagel shops in area, and perhaps the country.  It is probably good that I don't live in America because I would most likely order bagels online more than I should.  For now, they are my once a year indulgence.
Bagels in hand we pushed our sleeping boys back to the train station and headed out of the city.  I was sad to leave and wish we could have seen more this trip, but traveling with kids is all about making the experience enjoyable for everyone.  There is no benefit in pushing your children beyond their limits, skipping naps, or delaying bedtimes.  All that would result in that case would be memories of your children cranky and fussy at a variety of tourist attractions.  I believe seeing a few things, enjoying the local atmosphere and exposing your children to a new place is the best way to get the most out of your travel experience.  Now I can think about the fun things we will do next time we visit NYC!