Yesterday we travelled to New York City.  And, while I love our life in a small town in the country I am mesmerized by the world's great cities.  NYC is definitely one of my favorites.  This visit we did a lot of walking around enjoying the city but not worrying about hitting too many of the major tourist sites.  We chose things the boys would enjoy and once they fell asleep in their strollers we just took our time enjoying the sites, sounds and smells of this magnificent city.
We took the train, which is a favorite for the boys landing us at Grand Central Station.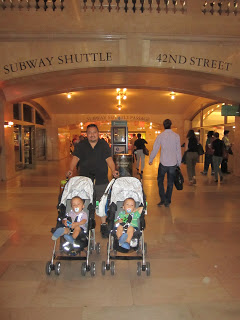 Grand Central is not only a beautiful and very busy train station, but it is an iconic landmark of NYC.  While hard to find sometimes, the elevators are clean and great for strollers, and the washrooms are much cleaner than most train stations.  The downstairs is a large "food court" featuring such NYC delicacies such as Magnolia Bakery.  *Note – if you have not tried one of their cupcakes you must.  They are worth every calorie*
After leaving Grand Central we walked up to 5th Avenue and headed towards Central Park.  On our way I was captivated by a number of the 5th Avenue windows.  Here are a few I enjoyed:
These were LARGE paper replicas of iconic Gucci purses.
I love paper art and these were really cool.
I must admit that there are few places in the world I love more than Tiffany's.
Although with twin toddlers I opted not to go in this visit.
I thought this Tiffany's window was remarkable.
The backdrop created to showcase one necklace was stunning.
After our stroll down 5th we headed to FAO Schwartz for some kid centered fun (although I think my husband and I enjoyed it as much as they did!).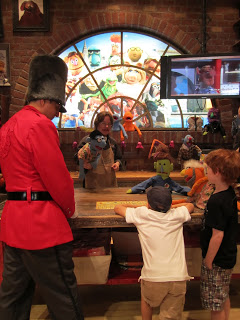 You can customize your own Muppet to take home!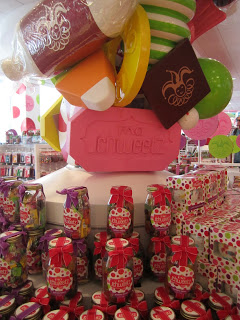 Candy section is unreal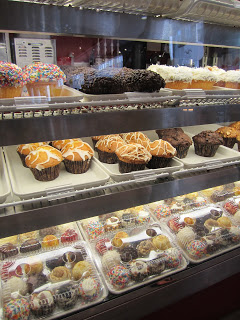 FAO Cafe has the scrumptious muffins, cupcakes, juice
and fantastic coffee for the parents.
Train set was the favorite for our boys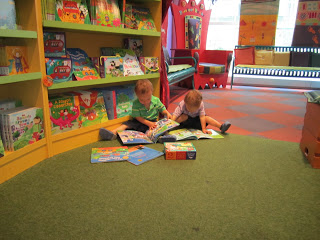 Reading in the story area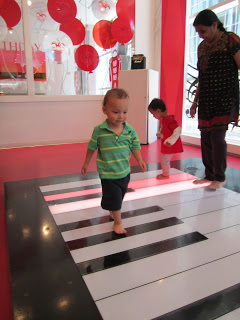 Nico loved the large piano.  I loved it because it reminded me of BIG
We left FAO Schwartz with two Thomas trains "Patrick" which the boys loved because it was a truck/train combo and three amazing books.  It was a fun outting for all of us.  I can't wait to take the boys there again when they are older.  It truly is a unique and special toy store.
*Part 2 to follow.