We are currently enjoying our annual summer road trip to the U.S. We love road trippin' and come every year to visit my best friend and her family in Connecticut, visit NYC, shop at Woodbury Commons and get away from the stresses of everyday life.
We packed the car and left on Monday afternoon traveling to the halfway point, staying overnight and then making the rest of the journey.  The boys have been fantastic further emphasizing my belief that if you travel often with kids they adapt easily and enjoy the experience.
We drive a Nissan Rogue and I remember thinking when we bought it that it was going to be plenty big enough for our family.  For every day it definitely is, but when traveling we put on the roof racks and attach our Thule soft bag pretty much doubling the volume of shopping we can bring back!  We love the soft bag because it folds up small and can be detached easily.  It isn't waterproof, but we put our bags inside a clear plastic garbage bag and it works perfectly.
When we travel to the U.S. we love to stop at
Cracker Barrel
for meals.  I mean, who doesn't love a shop and restaurant in one!  The boys love the kids' meals and we appreciate that everyone who works there seems to find our children adorable even if they are running around the restaurant. We always order two kids meals and mix them up so the boys have variety.
Road Trippin' With Twin Toddlers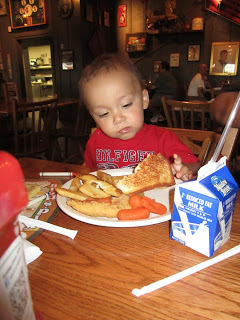 Enjoying his grilled cheese at the Cracker Barrel
Now that we are here in Connecticut we got up early this morning to get breakfast from a local bakery so that we could eat at the train station.  Our boys LOVE trains so we did a little train watching while enjoying our bagels and muffins.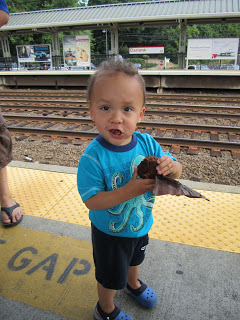 Muffins and trains = happy boy
Today is my birthday and I couldn't imagine spending it any other way.  Here with great friends and my family.  This was the sign at the train station today.  I thought it was fitting and left my smiling to think of all the connotations of its wording.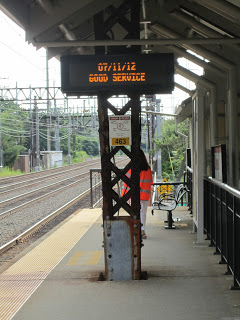 Good Service indeed :)
Happy Wednesday!