The laundry is done, the main floor of my house is packed up (ready for our new flooring to be installed), the dog is with our friends, and I am up way too late.  Must be vacation time!
This afternoon we are hitting the road for NY State and Connecticut.  Cannot wait.  It's been a long year, and I am ready for some family time. 
My love of road trips began when I was a kid and my parents packed me in the car for a trip to the East Coast of Canada.  I remember the smell of the salty sea air, hiking the Citadel and having my parents all to myself without distractions or other people.  It was wonderful.
Now, I find myself getting ready for our annual summer road trip to the U.S. Packing is always a feat when getting everything ready for the twins, my husband and myself.  I wish that I could say that I have help, but I find that things go smoother when I just oversee the packing.  It definitely prevents the thousand questions as we head down the road "Did you pack the baby monitor?  Did you pack the swimsuits?"  One of my favorite packing tools is Ziploc bags. I love packing in Ziploc bags.  I love Ziploc bags on a good day, but when packing they are my favorite tool.  I organize snacks, toys, pj's, socks, underwear, diapers, electronics etc. etc.  Here are some things to think about when packing for a trip with your family.
Questions to ask yourself when packing:
What do my child/children need to sleep? 
For my boys they listen to Mozart on an Ipod while they sleep.  So we need to pack an ipod, speakers, their pillow pets, and a few favorite books.
What will keep the kids entertained in the car?
After repeatedly swearing that I would not let me boys watch TV for long periods of time, we recently  purchased a Dual Screen DVD Player for the car.  I hope to let the boys spend most of the time looking out the windows but I also understand that the boys are older now and will need different distractions when they can't run and play.  So, we have loaded up on Thomas movies, healthy snacks, cars, books, and water.  We also purchase episodes of their favorite TV shows and put them on our ipods for challenging times in restaurants etc.
What gear will you need for all of the activities you are doing?
Consider what stroller(s) you will need, swimming gear, sunscreen, hats, shoes, jackets, pack n' play(s), toys, etc. 
Have you called ahead to ensure that your hotel has all the things you need?
There is nothing worse than showing up to a hotel with two overtired, cranky, crying boys to find that the hotel only has one crib available (this happened to us last year).  Where we can, we stay at Homewood Suites hotels because of their 100% satisfaction guarantee.  Plus, we love having the boys set up in the living area while we have the bedroom and bathroom access after they go to bed.  My husband and I are night hawks so we prefer to have time to watch TV once they are sleeping.
Bring a positive attitude
I think often this is the key piece for family travel success.  There will be tears, tantrums, and things will not go as planned.  But, there will be far more laughs, great memories and experiences that make all of this worth it.  And, in the end you are teaching your children about change, travel and new experiences.  All of which are invaluable life lessons.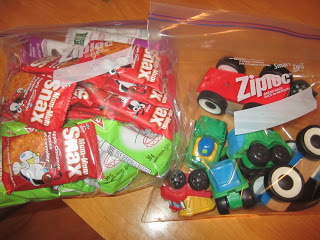 Snacks and various cars/trucks.  Pretty much the essentials in our life!