Hard Rock Cafe Pins
That day I wanted to buy something to remind me of the trip and the young man in the Rock Shop suggested I get a Hard Rock Cafe pin as a souvenir.  I did just that and my collection was born.
I can now boast pins from all over the world.  Some from places I have visited, and others from locales that friends or family have travelled to.  In total, I have visited 24 cafes in 12 countries.
I have been to and have pins from:
Boston
Chicago
Hollywood, FL
Ft. Lauderdale
Miami
Indianapolis
New York, NY
Niagara Falls, NY
Orlando
Washington, D.C.
Montreal (closed now)
Ottawa
Toronto
Skydome (closed now)
Niagara Falls, ON
Cozumel
Mexico City
Grand Caymen
Aruba
Margarita, Venezuela
London
Paris
Berlin
Athens
Rome
Edinburgh
I have crazy stories of taking long cab rides to find a Hard Rock, of fantastic Margaritas and Dulce De Leche crepes in Cozumel, and the pure enjoyment of eating a big juicy burger in London, England during a beef shortage (all Hard Rock Cafe beef comes for the USA).  I've collected their Breast Cancer Awareness pins, Earth Day pins, Valentines' Day pins and a variety of charities.
Friends have purchased pins for me in:
Denver
Maui
Las Vegas
Myrtle Beach
Nashville
San Antonio
San Diego
Puerto Vallarta
Lisbon
Barcelona
Yokohama
While I never thought of myself as a "collector" of things I really cherish this collection.  It tells a story, takes up minimal room and is a conversation piece.  Since marrying my husband four years ago we have been to ten cafes together and our two year old twins have been to five.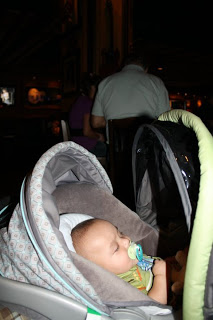 Napping at Hard Rock NYC Times Square 5 months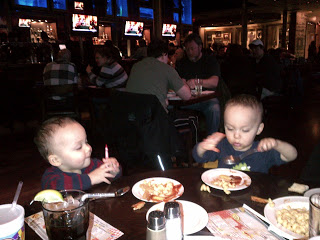 The Boys HRC Toronto Feb 2012
It started with one pin, twenty years ago and I am excited to see where the journey will take us.