Recently at a friends house, the boys tried out a small slide and loved it!  My parents, feeling it is necessary to outfit them with anything they love rushed out to buy the boys a slide of their own.  Now, that said, it is definitely not the one I would have picked out.  I was hoping for this one from Step 2 but I certainly could not turn away their proud grandparent faces at the door.
My parents dropped the slide in its box the very next day and headed on their way.  Yesterday (while still nursing a sore back) I decided to put it together.  Mayhem ensued.  The boys were so impatient that they wanted to try to slide down it before it was assembled.  They cried, they fussed, they begged for my attention.  It was quite a scene.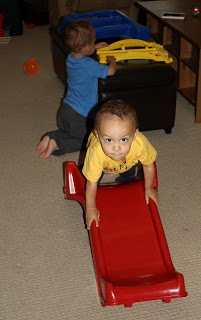 I am going to slide on this even though it is not put together yet!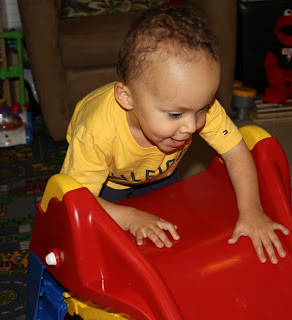 Finally ready….
My husband and I finally got it together and then one of the boys was SO keen to go down it he climbed up and headed down head first.  Luckily, it is not a fast slide and he ended up in a little laughing heap at the bottom.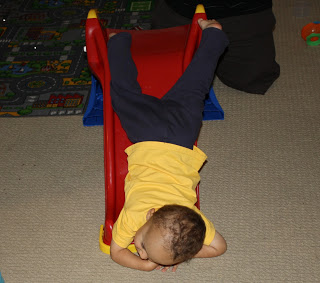 ooops…I guess I should not go down head first!
Then he helped his brother figure it out….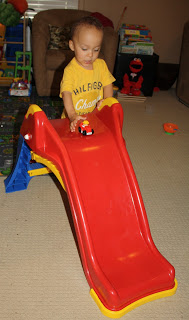 Maybe it's safest if I just put my car down the slide?
Looking forward to moving the slide outside for the summer :)