Today started with two laughing boys.  They began laughing before I woke up and except for one minor meltdown have been laughing ever since.  It began with one breaking his toe through his sleeper which the other thought was hilarious.  The brotherly love between them is a remarkable bond.
Then we took a trip to our local farmer's market where they were able to charm everyone with their smiles.  We picked up some fresh rhubarb, looking forward to making it into something scrumptious.
Next stop was Staples to get a few things for my husband's business.  There, the boys felt it was only appropriate to hug each other to death as a public display of affection.  I could barely take the pictures because I was laughing so hard.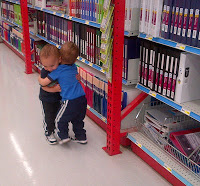 After lots of laughing and hugging, we headed home for lunch and a nap.  Looking forward to the afternoon's adventures!
What does brotherly love look like in your family?