Today is my husband's birthday.  To celebrate we are having a couple of people over for dinner tonight.  Instead of the usual carrot cake (which I do admit is delicious!) I decided to make a Martha Stewart recipe for Brown Sugar Pound Cakes and use Bailey's Irish Cream to create a special icing.
Brown Sugar Pound Cakes
Ingredients
3 cups sifted all-purpose flour
2 teaspoons baking powder
1/2 teaspoon salt
8 ounces (2 sticks) unsalted butter, softened
2 1/4 cups packed light-brown sugar
4 large eggs, room temperature
3/4 cup buttermilk
Directions
Preheat oven to 325 degrees. Make cupcakes as directed in Basic Cupcake How-To, using buttermilk for wet ingredient. Fill each cup 3/4 full, and bake for 25 minutes.
Set rack with cupcakes over a parchment-lined baking sheet. Spoon glaze over tops, and let stand until set. Serve glazed cupcakes immediately.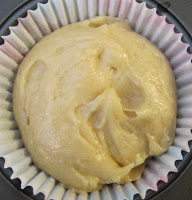 Raw batter in liner
Cupcake cooling
The finished product
Icing:
1.5 cups unsalted butter, room temperature
4 cups of icing sugar
3 tbsp Bailey's Irish Cream liqueur
1/2 tsp pure vanilla
With an electric mixer on medium-high speed, cream butter until smooth.  Reduce speed to medium.  Add the confectioners' sugar,1/2 cup at a time, beating well after each addition and scraping down the sides as necessary.  After each cup of icing sugar, raise the speed to high and beat for 10 seconds (to aerate frosting).
Add Bailey's and vanilla, and beat until combined and smooth.  Use immediately, or refrigerate up to 5 days in an airtight container.
*Recipe from:  Martha Stewart's Cupcakes, Pg. 214, 2009.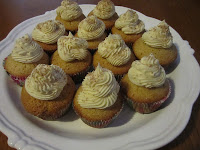 Still working on my decorating, I will get the hang of the piping bag eventually!
I think a new tradition has been born!  These were really fantastic.  Everyone loved them.