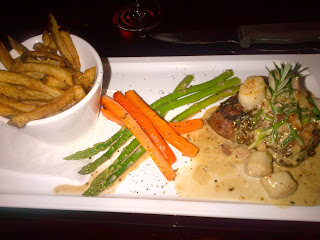 Tomorrow is my husband's birthday…39.  Since I am working tomorrow we tried to get a babysitter for tonight.  Unfortunately she could only come from 4:30-6:30.  We decided to go for an early dinner at a favorite restaurant in the area so that we could have some kid-free celebrations.  We got to the restaurant before it opened (4:55pm). We were in fact there so early that the chef had to get us seated and served because the wait staff hadn't arrived yet. 
Despite the fact that we had dinner at a time that most people would call Happy Hour, it was scrumptious.  The best part was that we did not have to prepare it, we could eat with both hands and did not have to share any of it with hungry little mouths. 
While it certainly wasn't the birthday celebrations we had pre-children, it was a nice chance to just be together.  We got to come home, bathe the boys, tuck them into bed and enjoy a post dinner coffee in our pj's.