This soup is my own variation on a Martha Stewart recipe for vegetable soup.  I added V8 juice (which my grandmother always put in her vegetable soup), and one of the key ingredients making this a yummy, easy to make favourite in our house.  This soup, topped with finely grated parmigiana-reggiano cheese = heaven, and, my go-to lunch. It is also fantastic to use up any veggies in your house that are getting close to turn.  I also love that this soup is just as delicious in the summer as it is on a cold winter's night.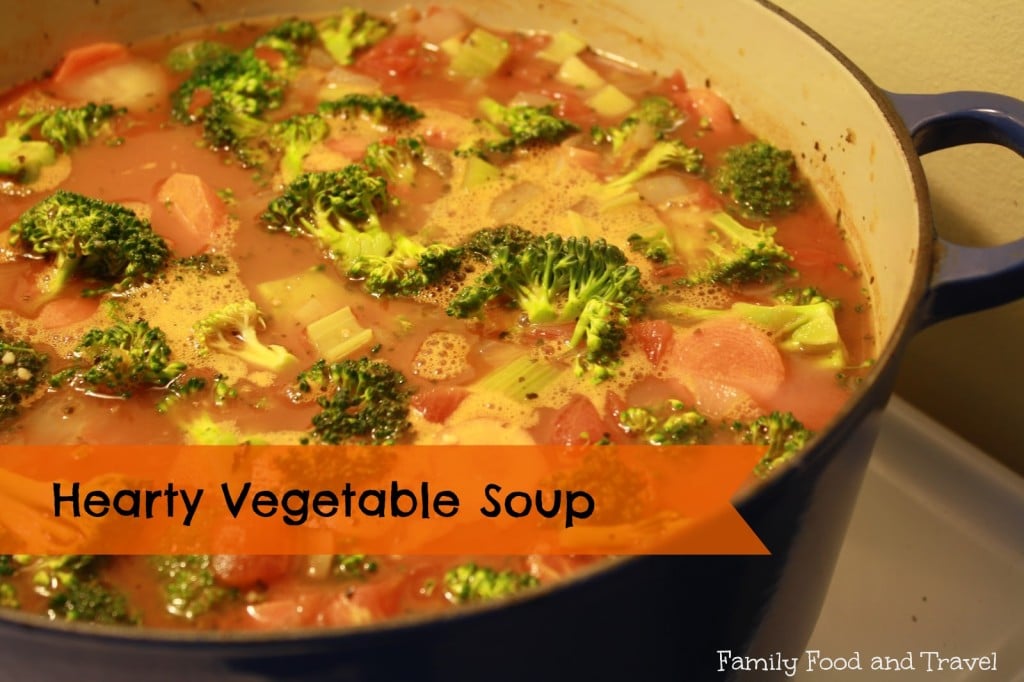 Vegetable Soup
2 tablespoons olive oil
2 cups chopped onions
2 cups thinly sliced celery
2 teaspoons Basil, Parsley, and Garlic Pepper
1 can of V8 juice
1 reduced-sodium chicken broth 900ml
2 can (28 ounces) diced tomatoes, with juice

 

(using one can of 'herbs and spices' adds extra flavour)
8 cups mixed fresh or frozen vegetables, such as carrots, green beans, zucchini cut into pieces
1.

    
Heat oil, onions and celery in a large stockpot. Cook, stirring frequently, until onions are translucent, 5 to 8 minutes.
2.

    
Add broth, tomatoes and their juice, V8, basil, parsley and garlic pepper; bring mixture to a boil. Reduce heat to a simmer, and cook, uncovered, 20 minutes.
3.

    
Add vegetables to the pot, and return to a simmer. Cook, covered, until vegetables are tender.