Twin strollers is a very personal choice.  A decision few moms take lightly.  Choosing the right stroller for your needs requires research, advice from other moms, and sometimes financing (depending on your choice).  I set out to find the perfect stroller for our boys when I was pregnant.  Knowing that I would need something that would fit Graco Infant Seats (because we already had those) while still getting through doorways, folding up and fitting in the back of our small SUV all the while being as adaptable for the country as it is for the city I was able to narrow it down to a few choices.
I really, really wanted a more jogging type stroller.  One that had larger wheels and would fit my two little bundles of joy snugly and safely, but I really couldn't afford one.  So, I researched the lower priced options and decided to go with the Graco Duo Glide.
Twin Strollers
My husband, and the sleeping boys (5 months) in NYC
We loved it.  That stroller went everywhere with us.  We walked and walked and walked with it.  We shopped with it, we travelled with it, and still on occasion use it with the boys if we are going to a mall or somewhere we want them to be 'contained.'
However, our stroller needs expanded.  We found that airport travel was easier with two umbrella style strollers and added these two to our collection, Maxi Cosi strollers (did not love the light colour inside the canopy but it has been changed to black on the new models).
Tuckered out. Sleeping in the Airport.
These have been great travel strollers, and a great option when on the rare occasion I am out with only one of the twins.  They can be taken right to the door of the plane, folded up and stored underneath.  They lay almost flat for great on the go napping and they have a wonderful holder for sippy cups etc.
Then the boys got heavier, it was harder to walk them around on uneven ground and I wanted the double stroller I had dreamed about.  It was no longer a dream, but really a necessity for the area we live.  And then I purchased the Bob Sport Utility Dualie and could not be happier.  It is great in snow, mud, rain, uneven terrain, sidewalks, hills, really anywhere.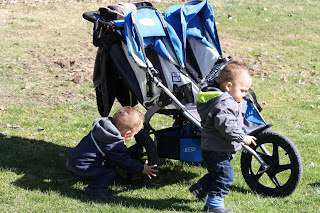 The boys also love it, regardless of whether they are riding in it or pushing it :)
We hope this is the end of our stroller purchases (especially since the boys are 2).  And, all told we spent well over $1000 in strollers, but in a one car family I believe it was worth every penny.