Motherhood is one of the most challenging experiences of my life.  These are my thoughts on motherhood.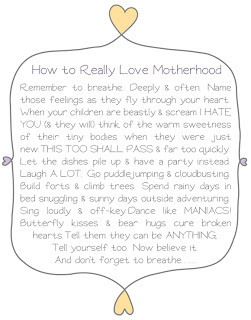 Thoughts on Motherhood
I saw this today at http://www.ohmyhandmade.com/2011/what-we-know/how-to-really-love-motherhood/  and I really really loved it.  It spoke to me after a morning of watching my boys wrestle their way around the house full of energy after a night when they both woke up twice for no apparent reason.  I marvelled at their energy, their cuteness and as I rushed around getting ready for work I wished I had time to just be with them.  To not worry about everything else that was going on and be.  I vowed that today when I got home from work I would set everything aside and just play.  This crazy toddler stage will go by all too quickly and I don't want to miss any of it worrying about work, money, responsibilities etc.  Motherhood is a gift, one that I don't always cherish as much as I should.  Here's to all the mothers out there that are taking time today to play, to snuggle and to love every crazy moment.
What are your thoughts on motherhood?