The feeding tube diet is a new fad advertised as a way to lose weight quickly.
For me, the feeding tube diet wasn't a diet, but the way my boys stayed alive.
What the feeding tube diet means to me
As a mom of twins born at 32 weeks who were fed through a feeding tube for more than a month, I absolutely cannot believe that people would make this choice as a diet.   I too have struggled with my weight for years, but this is preposterous. NY Times Article
I really feel this article on Babble.com says it all. Link to Babble Post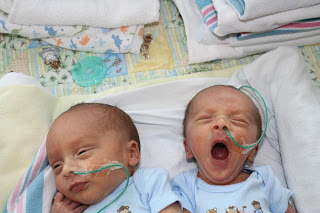 Feeding tubes were not created as a way for people who struggle with their weight.  They were created for people who are not able to feed themselves for one reason or another.  For  my boys, their feeding tubes allowed them to grow, flourish and thrive.  From the minute they were born til their third week, their lives depended on getting breast milk through their tubes.  For some, this new fad might be an 'easy' way to lose weight.  But for me, it is a medical intervention I am deeply indebted to.