Are indoor shoes just for kids?
Today while reading the awesome blog Nice Girl Notes I had a good chuckle over her post on indoor shoes.  And, yes, I too sport indoor shoes.  I have a pair of brown Birkenstocks that I wear only in the house.  I LOVE them!  After my pregnancy I developed wicked bad plantar fasciitis and had to designate a pair of Birks to just indoor use.  Here they are on my feet right now (notice the dressy work argyle socks, and the embarrassing polished toe visible)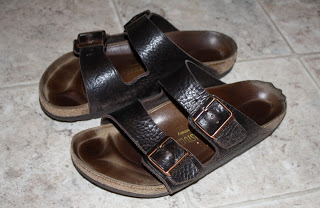 Not only do I have indoor shoes, but I also have clothing designated for "just around the house" wear.  I did not photograph these because honestly, these are clothes that are comfy but should not be seen by anyone who does not love me unconditionally!  My "indoor wardrobe" used to involve lime green track pants, but I retired those recently (and my family is ever thankful).
Do you have indoor shoes?
Or an indoor wardrobe?