One of my friends recently introduced me to Stumbleupon.com and I am hooked! It is way better than reading my Facebook NewsFeed because I have no idea what will pop up. I have a variety of interests tagged to Stumble. Today's coolest Stumble was a website highlighting some historical photographs. This photo of Niagara Falls in 1911 when it froze over had me captivated.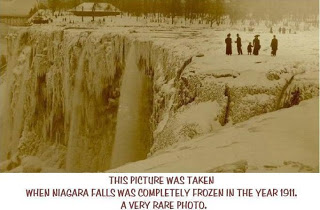 Last May I attended a conference in Niagara Falls. I decided to take my family with me so that they could enjoy the area while I was busy.  We stayed on the Canadian side overlooking the falls at the Embassy Suites (which I would highly recommend) 
http://www.embassysuiteshotelfallsview.com/?gclid=CNvKoODRsK8CFUbe4Aode0kiEQ
.  It had been years since I visited the area and I was surprised at how captivated we all were by the magnificent power of the Falls.  The boys sat on chairs by the window and watched them every minute they could.  
Our room was perfect because it had a main bedroom (overlooking the Falls), a large bathroom in the middle, a small fridge, two sinks, and a living room area closed off with a door.  We used this area for the boys setting their cribs up.  While we were "trapped" in our room while the boys were sleeping, we had the bathroom and bedroom area to enjoy without fear of disturbing them.  It was really an ideal family suite.  Unfortunately it rained a lot and I was busy at my conference, but it was a fun family vacation and one that I look forward to repeating very soon.