Buy at Amazon for $24.99
The Internship is a feel good funny movie with a featuring some important life lessons.  What I thought would be a silly movie was exactly the opposite. While there are certainly some silly parts, overall it was a movie about life, love and finding work you are passionate about. The Internship will make you think about the importance of friends and inspire you to take time to reflect on your work and what you are passionate about. A great gift for men who have always wanted to see inside Google, and appreciate the importance of a best friend.
Purchase from Amazon for $24.97
Jackman returns as The Wolverine and faces his ultimate nemesis in an action-packed, life-or-death battle that takes him to modern-day Japan. Vulnerable for the first time and pushed to his limits, Wolverine confronts not only lethal samurai steel but also his inner struggle against his own immortality; an epic fight that will leave him forever changed.
Wolverine is perfect for all of the action/comic book fans on your holiday list.
Buy at IHOPE Shop $40
IHOPE Canada makes amazing, colourful watches that have interchangeable heads and straps. They make a social impact by supporting Canadian Causes. We currently have six different colours of watches, each of the colours represent Canadian Charities and Non Profits that we support. The causes that we currently support include; Environment, Cancer, Urgent Relief, Education, Heart & Stroke and Hunger. These causes are represented by the following colours; black, blue, green, grey, red and white. You can support your favourite charity or just choose your favourite colour.
Purchase from HPShopping for $149.99
The HP Slate 7 is the ideal tablet for any member of your family.  People of every age group can enjoy it's small compact design, high quality sound, excellent price and easy portability.  The HP Slate 7 boasts the following specs:  Android 4.1 (Jelly Bean), ARM Cortex™-A9 Dual-Core, 7″, Rear and front cameras, 8 GB eMMC.  Family Food and Travel highly recommends the HP Slate 7 for anyone on your holiday list this year.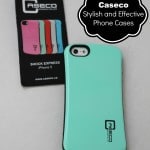 Purchase from Caseco from $24.99
Caseco designs a number of cases for iPhones and Samsung.  With a wide variety, great colours and practical, sturdy cases they are stylish and functional.
A great purchase for anyone with a Apply/Samsung phones.