Print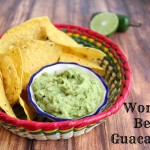 World's Best Guacamole
You've tried lots of guacamole recipes but I can assure you this is truly the World's Best Guacamole
Place onion and jalapeño in a bowl with garlic powder, salt and pepper coat with juice of limes.

Set aside at least 5 minutes and up to an hour.

Half avocados, scoop out insides, discard pit and skin.

Mash Avocados in the bowl with onion mixture until desired creaminess.

Add additional salt if desired.