Print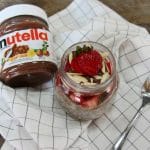 Chia Banana Strawberry Breakfast Jar with Nutella
A delicious make-ahead breakfast featuring fresh fruit, chia and Nutella.
Place the Chia seeds, banana and milk in the Mason jar. Using a spoon, gently stir the ingredients making sure the chia seeds do not form lumps.

Close the jar and place in the fridge for at least 4 hours or overnight.

Open the jar and give it a quick stir.

Top with the strawberries, Nutella® and the roasted almonds

Serve this Chia Banana Strawberry Breakfast Jar with Nutella with 1/2 cup (125 ml) of milk and a slice of whole grain toast for a balanced breakfast.