Print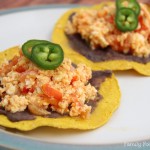 Mexican Scrambled Eggs
Easy and delicious traditional Mexican Scrambled Eggs
Place vegetable oil in a hot frying pan, add tomatoes, onions and jalapeño.

Cook until tomatoes are soft.

Crack two eggs over vegetable mixture, stir to combine.

Add salt and keep stirring until eggs are cooked and vegetables are mixed through.

Spread refried beans on tostada, top with Mexican Scrambled Eggs.

Serve with sliced jalapeño for garnish.