Print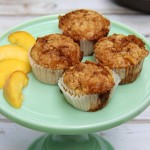 Peaches and Cream Oatmeal Muffins
Full of flavour and dense enough to be satisfying these Peaches and Cream Oatmeal Muffins are a perfect snack or on-the-go breakfast
Preheat oven to 400F

In a bowl combine milk and oats and set aside.

In a large bowl combine flour, salt, baking powder and cinnamon, set aside.

In another bowl wish egg, brown sugar, butter, vanilla and lemon rind and pour over oat mixture.

Add dry mixture and mix until combined.

Top with peaches and stir in.

Spoon mixture into muffin cups.

Mix topping and crumble over the top of the muffins.

Bake for 30 minutes or until a toothpick inserted comes out clean.

Allow to cool for 5 minutes in muffin tin and then transfer to a wire rack to cool completely.