Print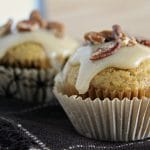 Caramel Pecan Topping
A delicious caramel topping that is perfect for pumpkin muffins, bread and more.
Place all ingredients (except pecans) in a saucepan and bring to a boil mixing continuously. Allow to boil for a few minutes and keep mixing until mixture has thickened.

You can add pecans to the mixture, or use the pecans as a garnish once topping is on the muffins.