Print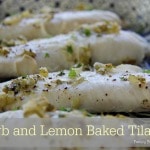 Herb and Lemon Baked Tilapia
A delicious lightly flavoured fish dish that tastes like a piece of summer all year long.
Preheat oven to 400°. Zest lemon and squeeze 1 tablespoon of juice. In a small bowl, combine the peel and juice with the softened butter, parsley, salt, pepper, and green onions.

Butter a 12x8-inch baking dish. Place fillets in baking dish, folding thinner ends under as necessary. Top fillets with the butter mixture. Bake fillets for 15 minutes, or until fish flakes easily with a fork.