Print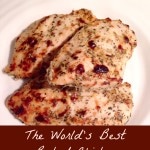 The World's Best Baked Chicken
Easy, delicious and the perfect weeknight meal.
4

chicken breasts

generous 1/2 cup of plain low-fat greek yogurt

generous 3 tbs of grated parmesan cheese

2

tsp.

finely chopped garlic

fresh

1

tsp.

finely chopped onion

fresh

a good pinch of salt & pepper

1

tsp.

dried italian herbs

salt free
Preheat over to 375

Place chicken breast in a large resealable bag or between sheets of wax paper and give them a good whack with the bottom of a pan or a rolling pin. Alternately, if they are coming out of the freezer and are still a bit icy, you could butterfly the breasts (and adjust the cooking time accordingly)

Mix the rest of the ingredients in a bowl - taste it, you'll melt!

I took each of my pieces of chicken and pulled them through the yogurt coating on either side. You could just dump it in the ziplock but I really wanted to keep as much of the coating as I could!

Place chicken breasts on a foil lined cookie sheet (so they aren't touching)

Bake for 30-35 minutes

Turn broil to high for about 2 minutes before I took them out so they got nice and toasty on the top.