Print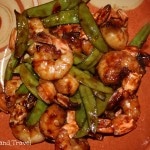 Ginger Hoisin Shrimp Stir Fry
An easy stir fry that can include a variety of veggies and/or protein for a delicious, flavourful meal.
Place oil in the pan and heat to medium high.

Drop frozen shrimp in the pan and cook (turning often) until shrimp has curled and changed to a nice pink colour.

Meanwhile, whisk together hoisin sauce, soya sauce, ginger, vinegar, honey, salt and pepper. Set aside.

Once shrimp have cooked through drain off excess water and oil. Toss in snap peas and cover with hoisin sauce mixture.

Cook until sauce has become thick and snap peas are cooked through - about 5 mins.

Serve on its own or with a side of rice.

*Note - shrimp can be swapped for chicken or tofu, and you can add as many vegetables as you'd like. Just remember to double the sauce if you are adding more vegetables or protein.