Print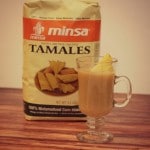 Atole de Pina: Mexican Hot Pineapple Drink
A delicious warm traditional Mexican pineapple drink - sure to warm you up on a cold day.
5

oz

Masa

11

oz

Pineapple pulp

blended fresh pineapple

4

oz

piloncillo

raw sugar or brown sugar

2

cups

cubed pineapple

water
Stir the masa into 4 cups of water, let stand 15 minutes then strain the water and set it aside.

In a blender puree pineapple in 1.5 cups water - strain and set the pineapple water aside.

In a saucepan, combine the strained masa water, piloncillo, 2 cups fresh water and the pineapple water and set over medium heat. Boil, stirring constantly for 15 minutes or until thickened.

Remove from heat, add the pineapple cubes and stir for another 5 minutes.

Serve hot.