Print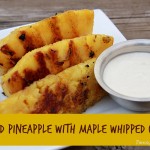 10 Minute Grilled Pineapple with Maple Whipped Cream
Delicious and easy to make dessert with only 5 ingredients and 10 minutes to make it's the perfect summertime treat.
Place pineapple wedges in a large ziploc bag with cinnamon and brown sugar.

Shake until coated.

Heat grill to medium heat.

Place pineapple wedges on grill rotating every few minutes until grilled on every side.

Set aside to cool.

Meanwhile mix Gay Lea Whipped Cream with maple syrup.

Serve Maple Whipped Cream with grilled pineapple either drizzled over the top or on the side for dipping.