Print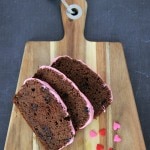 Chocolate Loaf with Cream Cheese Glaze
A delicious and moist quick bread that is perfect with tea or an afternoon snack.
Preheat oven to 350F

In a large bowl whisk together sour cream, oil, eggs and vanilla. Set aside.

In another bowl mix together flour, sugar, cocoa, cinnamon, baking powder, salt, baking soda and chocolate chips.

Add dry mixture to wet mixture until combined.

Pour into a parchment sheet lined loaf pan.

Bake for 60-65 minutes until an inserted toothpick comes out clean.