Print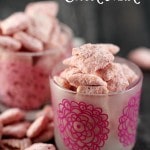 Bubble Gum Chex Mix
These delightfully unique Chex Mix is filled with the sweetness of chocolate and the flavour of Bubble Gum - the perfect snack for a party!
Place Chex into a large bowl and set aside.

In a small bowl, microwave chips on high for a minute, stir and microwave again for about 45 seconds more or until melted and smooth when stirred.

Poor Chocolate over cereal and stir until evenly coated. Mix together flavour packet and powdered sugar in a small bowl.

Combine sugar mixture and cereal in a large resealable plastic bag and shake until well-coated.

Spread onto a baking sheet to cool. Store in airtight container in refrigerator.