Print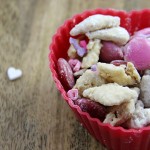 Valentine's Chex Mix
A delicious sweet snack made with rice cereal. A gluten free treat that can be adapted for any holiday or occasion.
Pour Rice Chex into a bowl. Place white chocolate chips, butter and peanut butter in a microwave safe dish and microwave on high for 20 seconds. Stir then microwave on high for 20 seconds. Repeat in 20 second intervals until fully melted. Mix thoroughly.

Pour melted mixture over cereal and toss to coat. In a large ziploc bag place half the cereal mixture with icing sugar, close the bag and shake to coat.

Stir Smarties and sprinkles into bowl and toss to coat.

Spread Chex Mix from the bag and the bowl onto parchment or waxed paper. Allow to cool completely (approximately 20 minutes)

Mix all together and serve or store in an airtight container.