Print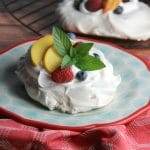 Pavlovas
Delicious light meringue like dessert free from fat and full of flavour. Make them into nests and top with whipped cream and fresh fruit.
Make sure oven rack is in bottom 1/3 and preheat to 250C.

Beat egg whites in a bowl using an electric mixer (or stand mixer) on high until soft peaks form (approximately 2 minutes).

Continue beating on high adding the sugar in small batches. Beat until glossy peaks form and sugar is completely dissolved (approximately 2 minutes).

Beat in cornstarch, vinegar and vanilla until fully mixed.

On a parchment lined cookie sheet drop 6 mounds of pavlova. Flat with the back of a spoon and push up the sides to form little nests.

Bake for 1 hour and 15 minutes until tops are crisp and dry (but not browning).

Turn oven off and allow pavlovas to 'dry' for an hour.

Cool completely.