Print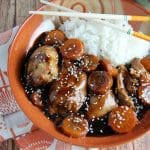 Slow Cooker Chicken with Hoisin Sauce
You don't need to call for take-out this Slow Cooker Chicken with Hoisin Sauce tastes better than any of your favourite chicken dishes. Sweet and tangy and perfectly slow cooked.
Total Time
6
hours
10
minutes
Place chicken thighs in the bottom of a slow cooker.

Place slices of carrots on top of chicken thighs.

In a bowl whisk together hoisin, soya sauce, ginger, garlic and orange juice.

Pour over chicken.

Cook on low for 6 hours or high for 4 hours.

Pan Sauce Instructions:

Once chicken is cooked use a ladle to take out the juice from the slow cooker and place in a deep frying pan.

Add 1/2 cup brown sugar and 1 tbsp corn starch.

Bring to a boil and whisk occasionally to keep ingredients moving and prevent any from sticking to the bottom.

Boil for 10 minutes or until sauce has thickened. Allow to cool slightly then use it as a topping for the chicken.

*Serve with rice and sprinkle with sesame seeds to serve.