Print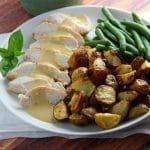 Pan Seared Chicken with Roasted Potatoes, Green Beans and Creamy Mustard Sauce
A delicious meal that the whole family will love. The creamy mustard sauce adds remarkable flavour to a classic main course.
Preheat oven to 450F.

Bake the potatoes: wash and cut potatoes into 1/2 inch cubes. Toss them on a baking sheet with a drizzle of olive oil and a pinch of salt and pepper. Bake in the centre of the oven, stirring halfway through cooking until crispy and golden brown, 25-30 minutes.

Cook the green beans: Bring a medium pot of water to a boil. Wash, trim and dry green beans. Add to boiling water and cook for 1-2 minutes, until tender-crisp. Drain.

Cook the chicken: Season the chicken with salt and pepper. Heat a large pan over medium heat. Add a drizzle of oil, then the chicken. Cook for 5-6 minutes per side, until golden brown and cooked through. Transfer to a plate and let rest for 5 minutes.

Make the sauce: Reduce the pan to low heat. Add the sour cream, mustard, 1/4 cup water, and chicken concentrate. Stir to combine and cook for 1-2 minutes.

Finish and serve: Thinly slice the chicken and serve alongside the roasted potatoes and green beans. Drizzle with sauce. Garnish with fresh herbs and enjoy!