I LOVE dips!  Anything that could be considered an appetizer is tops on my list The best part of this Spicy Buffalo Cheese Dip is that you can adjust the spiciness to your liking and it tastes like everything you love in buffalo wings. There is nothing like a dip to bring people together – chatting, sharing a game, an experience, or just some time together. I love to serve this Spicy Buffalo Cheese Dip with our other favorite World's Best Guacamole. The two are the perfect pairing and served with delicious crisp vegetables, nacho chips and a nice cold drink make for a great party appetizer.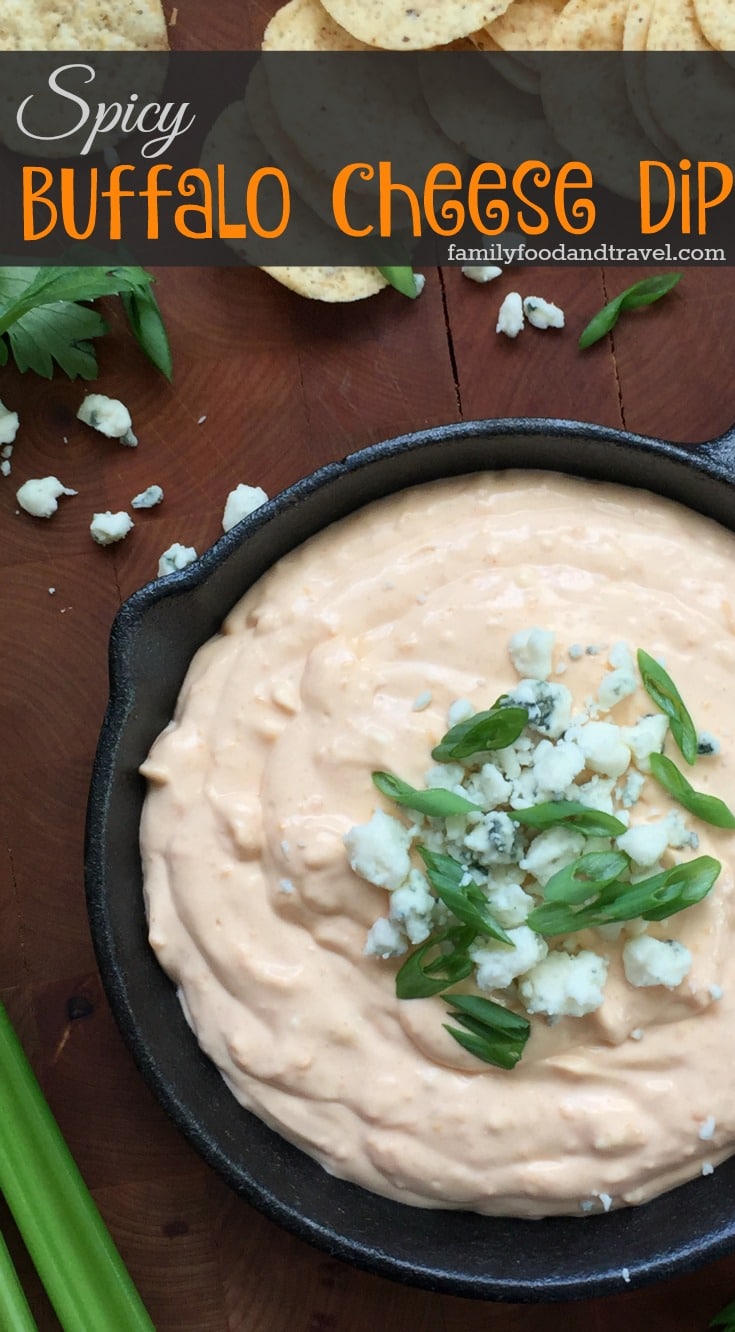 I first tried this dip as a baked chicken dip by Hungry Girl and loved it.  But, with lots of vegetarian friends, I needed to make some adjustments. I created this dip based on a variety of different ones I have seen on the internet.  Many call for chicken (which could be added), others for diced celery – but almost all have the same core ingredients – cream cheese and Frank's Red Hot. Love spicy? Try these Spicy Ranch and Broccoli Stuffed Mushrooms perfect for a get-together, or game day.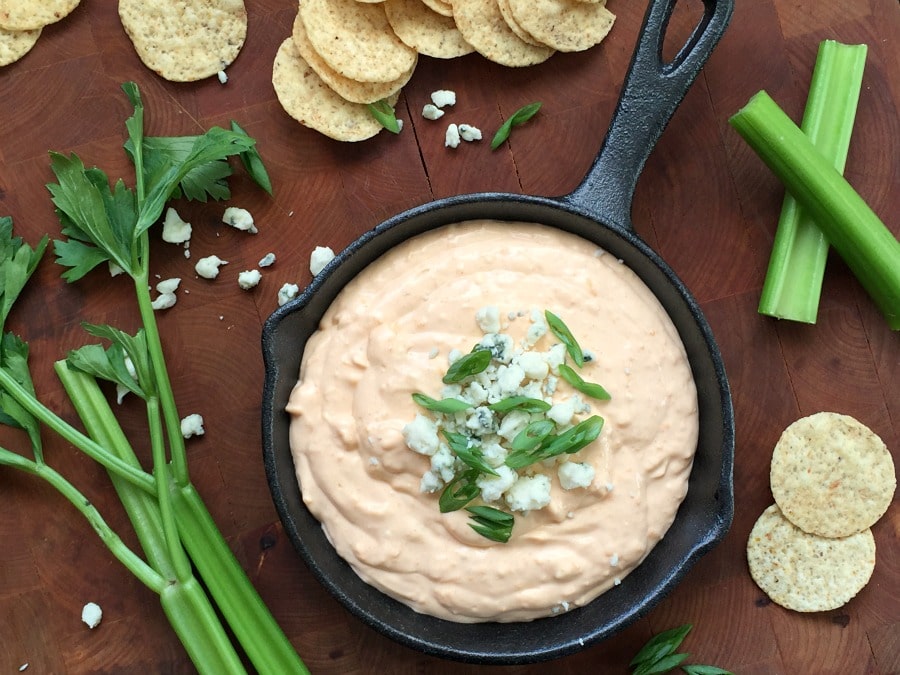 Spicy Buffalo Cheese Dip
Ingredients:
8oz cream cheese (at room temperature)
1/2 cup sour cream
1 cup grated cheddar cheese
1/4 cup Frank's Red Hot Sauce
1/4 cup Kraft Blue Cheese or Creamy Caesar salad dressing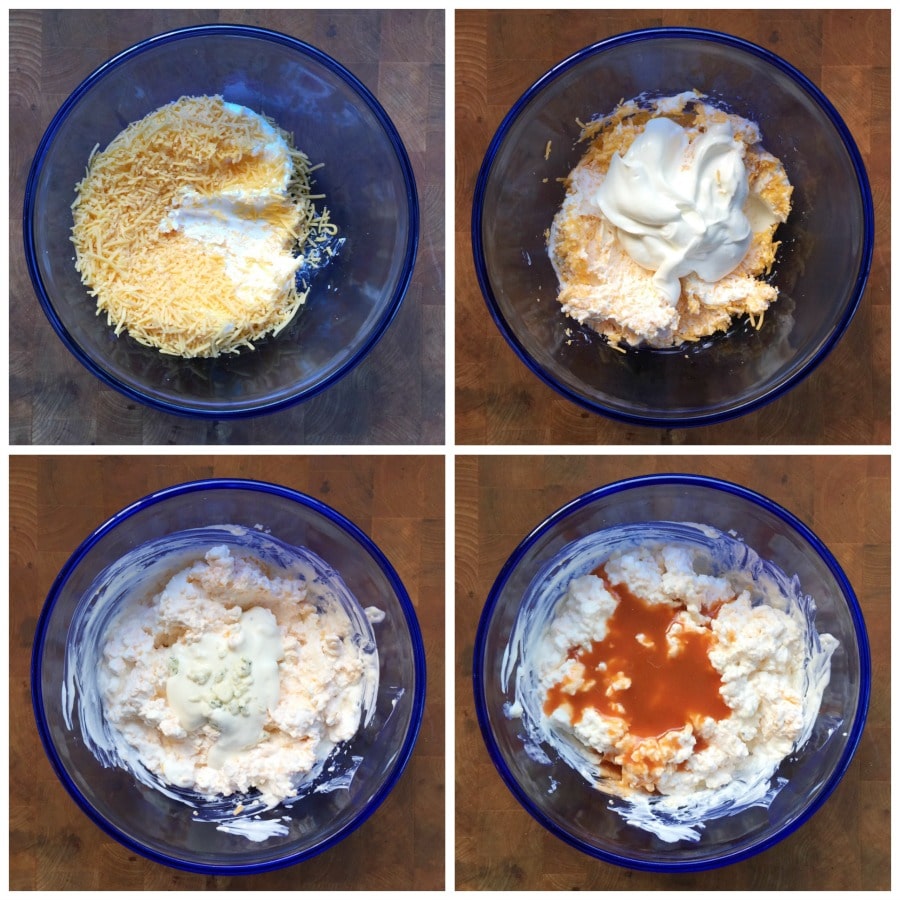 Directions:
Place all ingredients in a bowl and mix until fully combined.
Microwave for 3 minutes on high, stir, return for another 30 seconds or until completely melted.
Serve with nacho chips and/or veggies.
This dip is perfect for kids, adults, game day, movie nights or as a pre-dinner appetizer.  For a version with fewer calories use light cream cheese and salad dressing and fat-free sour cream. These small changes decrease the calories without compromising the flavors. Versatile, delicious and tastes like something indulgent this dip will become a family and party favorite. Plus, as a vegetarian spicy buffalo dip, you have more friends who can enjoy it!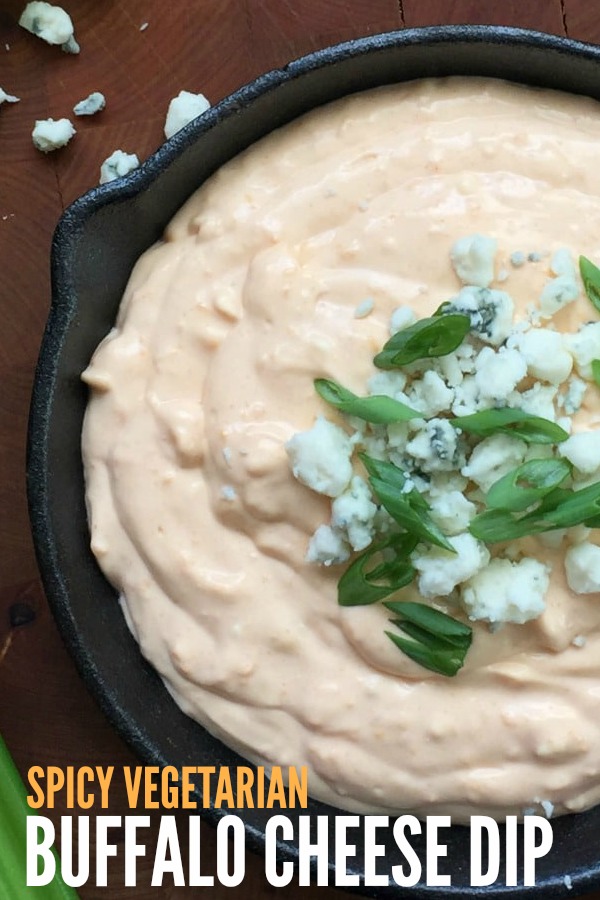 Looking for more appetizer ideas? Check out our appetizer recipes for inspiration for your next party.
Does your family have a similar dip recipe?  Share it with us!
Check Out These Awesome Posts