Like many twins, my boys were pretty squished in utero.  One sprawled out and took up as much space as he could.  The other twin was curled in a ball in the lower left quadrant pressed against my pelvis.  Right from the moment they started moving, my boys showed their distinct personalities.  Unfortunately, one side effect of their positioning is that one was born with Club Foot.  *There are a lot of theories about how Club Foot is caused.  Some say genetics, some say it's random, and others say it's positioning.* I despise the term "Club Foot" because it sounds like a horrific deformation.  His left foot turned in at about a 45 degree angle (considered a less severe case) and began treatment at The Hospital for Sick Children in Toronto at 4 weeks old (gestational 36 weeks).
Our journey with a Club Foot diagnosis
12 days old – you can see how his little foot turns in
For the first visit to Sick Kids, he went in an ambulance in his incubator with my husband.  They made the long journey (2 hours each way), waited for him to be seen and then journeyed back to our local hospital. That started the process of weekly visits to Sick Kids for his foot to be set and re casted. This picture shows his little cast.  While it broke my heart to see him in the cast, he didn't know any different and we were amazed by his resiliency and his strength!  It wasn't long before he was lifting the cast up without any problem (which must have weighed so much to those little legs).
I can tell you that those drives to Toronto weekly to take him to get the cast on with two sleep deprived and exhausted parents (plus his brother) were the hardest thing I have ever done.  Not only did I find it heartbreaking to see his little foot be set in this big heavy cast, but it took everything in us to not fall asleep while driving.  We survived on Starbucks Lattes, sugar and fast food on those days.  Not the diet of champions, or exactly the best thing for a nursing mother, but at the time it was essential.  I can tell you where every Starbucks is between my house and Sick Kids.  And, I was also happy to know that there is a Starbucks right inside Sick Kids Hospital!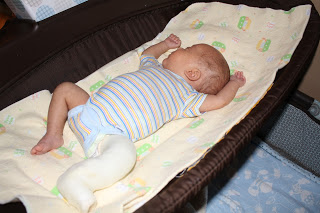 6 weeks old – taking a nap in the change table
We eventually started to get creative with his cast…
And then he got to have the cast OFF!  It is remarkable how much his foot changed in those 8 weeks of casting.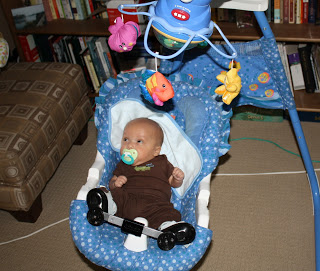 Rocking his brace in the swing
 At this point he had to wear the brace all the time.  He could have it off a few hours a day for stretching, baths etc.  He was really good about it and we were amazed by him everyday. As he got older he only had to wear it only at nighttime which allowed for lots of rolling, crawling, jumping and playing.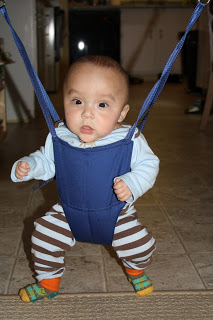 3.5 months old
While still wears his brace every night and we journey to Sick Kids every 6 months for check ups.  He is a star at the clinic with a perfect report each time.  He will wear the brace at night until he is probably 4 or 5.  It becomes more and more of a struggle as he gets older.  He now knows his brother doesn't have a brace, and he is more agitated by the weight of it and the inability to move his feet independently at night.  I must say that the results are remarkable and the struggles are worth it.  (I know he will thank me one day!)
Many children who are born with Club Foot go on to be athletes and sports enthusiasts.  That doesn't matter to me.  All that matters is that he gets to have the same opportunities as his peers and can choose to do whatever he is passionate about.  He is truly an amazing little boy and we are truly grateful that we have access to this treatment and team of experts.