I live in a small town.  It is outside of a medium sized town, but the closest large city is two hours away.  Growing up here I dated but I always felt that I was not going to meet my life partner within these city limits.  While I love the country songs that detail high school sweetheart's journey to the altar and children I knew in my heart that this was not going to be my love story.
I went to University, I completed my Undergraduate degree, Teaching degree and Master's degree.  I dated a series of men who either thought they were smarter than me or generally just better than me. I felt demoralized and unattractive and generally unworthy of a mate.  I started working.  I tried online dating.  I had definitely not found the one I was supposed to be with.
I met a friend who had worked on a cruise ship and so I picked her brain about how to apply etc. and sent off my resume right away.  I was hired pretty quickly and then waited anxiously to find out my first assignment.  A few months later I got an email stating that I would be working for two weeks in Alaska.
I was ecstatic!  I had always wanted to see that part of the world and thought a two week paid working vacation was my definition of perfect.
I packed, I travelled to Seattle and I boarded the Sun Princess.  I fell in love with the ship immediately and soaked up everything I could.  I toured the ship, settled into my cabin and I decided to go for lunch before my first shift.  I found my way through the maze of corridors in the crew area and settled into the Staff Mess for lunch.  It was empty, I was early.  But, the waiter was there setting up for lunch.  I struck up a conversation and noticing that he was cute, I tried my best to flirt.  He was busy and seemingly uninterested.  I headed off to work.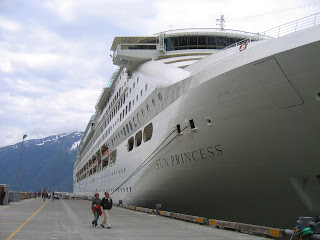 The Love Boat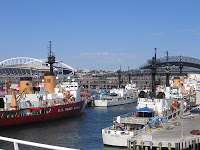 The Port of Seattle
When I arrived for dinner, the same waiter was there.  I again struck up a conversation, tried to ask him about himself etc. etc. There was something about him that I liked.  He had kind eyes, a nice smile and treated everyone with respect.  I couldn't explain it, but I liked him.  However, still, absolutely no sign of interest from him.
A few days later, at the Crew Bar I noticed him sitting with some friends.  I went to the bar and bought him a beer and headed over to give it to him only to find out that he had left.  I don't drink beer so I gave the one I had purchased to another guy and resigned myself that my attempts to get him to notice me were futile.
And then, on Canada Day I showed up to the Crew Bar late only to find that the bar was closed.  I sat with a bunch of friends (including said waiter) and lamented the fact that it was too late to get a beverage.  Martin, the waiter said "I have Coke in my cabin if you have something to mix it with?"  I said, "I have Vanilla Vodka, it should go well with coke?"  We headed back to our cabins and returned with our supplies to make a drink.  Almost everyone left the bar, and we sat, talking, laughing and enjoying being together.  Feeling like I had nothing to lose I told Martin about my futile attempts to get him to notice me.  He admitted that he didn't think anyone would be interested in him.  Two people who had previously lost at love had found each other.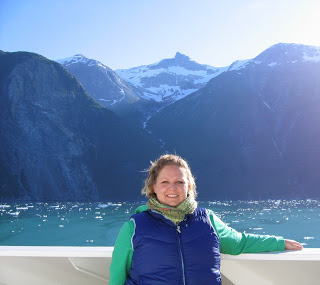 I returned home and spent the next week calling the cruise line trying to get them to take me back.  They offered me lots of contracts but none on the Sun, and that is where I needed to be.  I wasn't going back for the cruising, I was going back for Martin.Over the next week we spent every moment together that we could and I lamented the fact that I was returning home in just a few short days.  Something in my heart told me I needed to stay.  But, with a conference in Boston to go to, I needed to return home and figure things out from there.
I left for my conference in Boston and while there Princess Cruises called and offered me a 3 week position on the Sun but I had to leave the day after I got home from Boston.  No problem.  I signed up immediately.
My three week contact turned into four and when there was no possible way that I could stay any longer, I returned home to Canada and left my heart on the cruise ship.
People told me I was crazy.  Lots doubted that I could meet someone from another country, know them for such a short time and be in love.  But I was. I absolutely was.
I returned at Christmas to work another twenty days (taking unpaid days at work) to be with him again (he was on a 10 month contract) and then he came to Canada in February to experience the cold.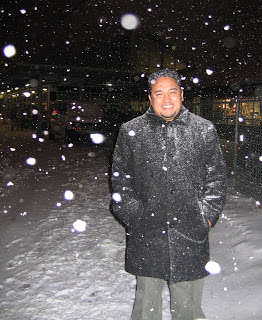 Martin's first snowstorm.  He is freezing beneath that smile!
He came, he loved it, he proposed.
It is hard to believe that we met this way.  That one fateful decision to join a cruise ship for a summer combined with some tough months of long distance led to love and a beautiful family.  But, it did.  And I am eternally thankful that all the stars aligned so that we could meet.  Now, more than six years later I cannot imagine life without him.  Lucky me.