My Roasted Beet and Goat Cheese Salad was born from a dinner invite to a friends' house who cannot eat grains. I wanted to make a hearty side dish that would be filling and satisfying. Having been to the local farmer's market the day before I had two bunches of beautiful beets that would be perfect. As the farmer who sold me these organic beauties told me, the combination of roasted beets and goat cheese is so perfect it brings tears to his eyes. That my friends is true! Delicious and full of flavour his beets taste like candy when roasted making them ideal to pair with greens, crunchy almonds and savoury goat cheese. Topped with a sweet and slightly acidic dressing all of your taste buds will be delighted with the result. The best part is this salad is easy to make any time of year. While it takes a bit of prep and advanced planning don't let that deter you it's very easy.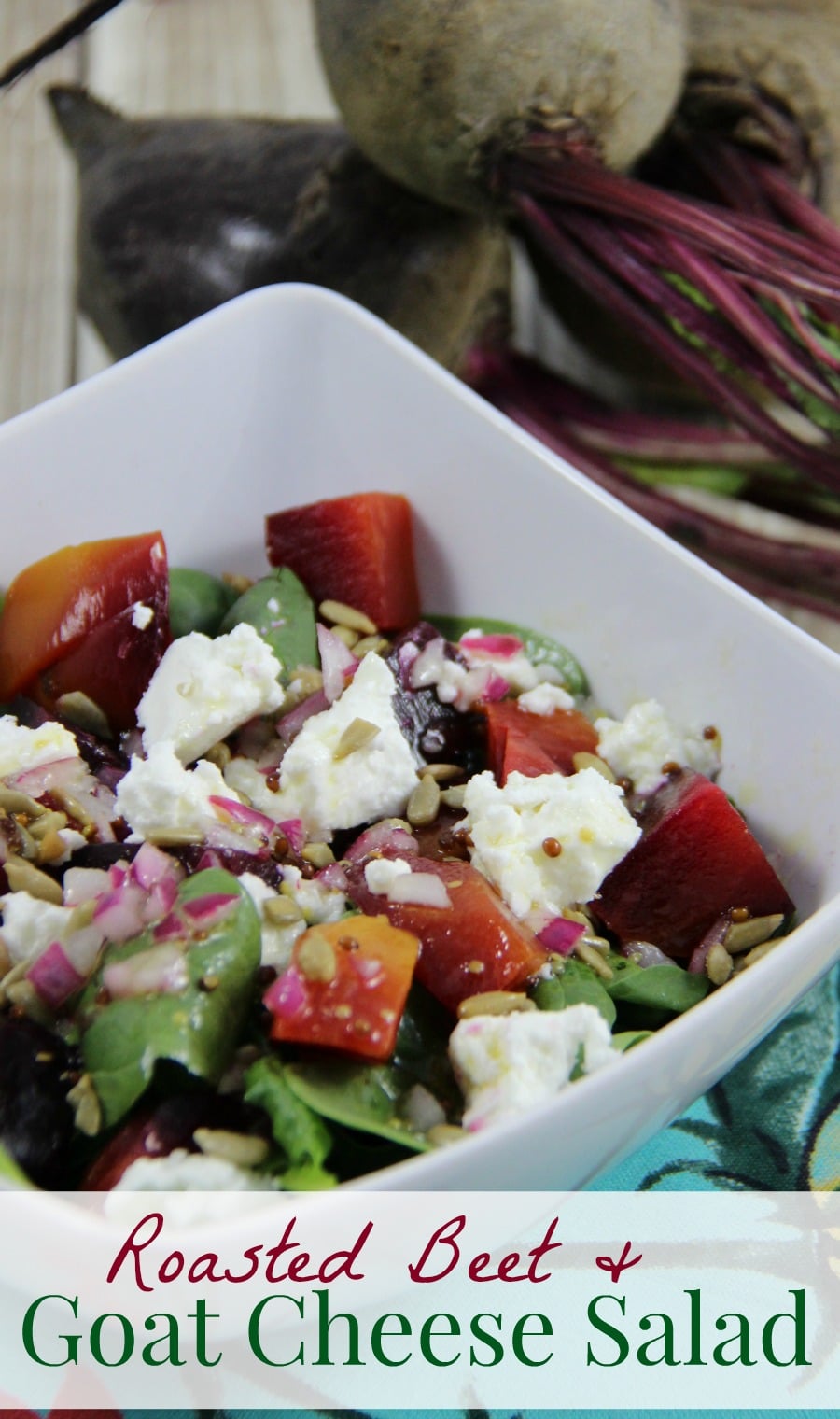 Roasted Beet and Goat Cheese Salad
Ingredients:
Roasted beets (see recipe below), cooled
1/2 cup toasted almond slices
1/4 cup crumbled goat cheese (or more if preferred)
Honey White Wine Vinaigrette (see recipe below)
Baby spinach or assorted greens.
Directions:
In a bowl mix greens with half of the salad dressing and toss.
Place greens on individual bowls/plates.
Top with beets, almonds and goat cheese.
Drizzle remaining dressing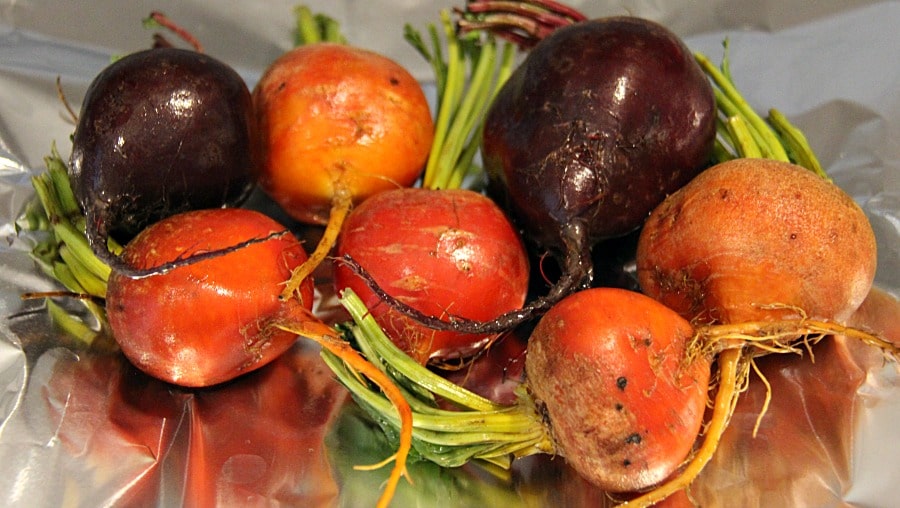 Roasted Beets:
Ingredients:
7 large fresh beets washed and leaves trimmed.
1 tbsp olive oil
Directions: 
Preheat oven to 425C
Wrap beets in foil, drizzle with oil and place on rack in oven.
Bake for 1 hour.
Unwrap partially and allow to cool.
Once cooled peel beets and cut into 1 inch cubes.
Place in the fridge until ready to serve.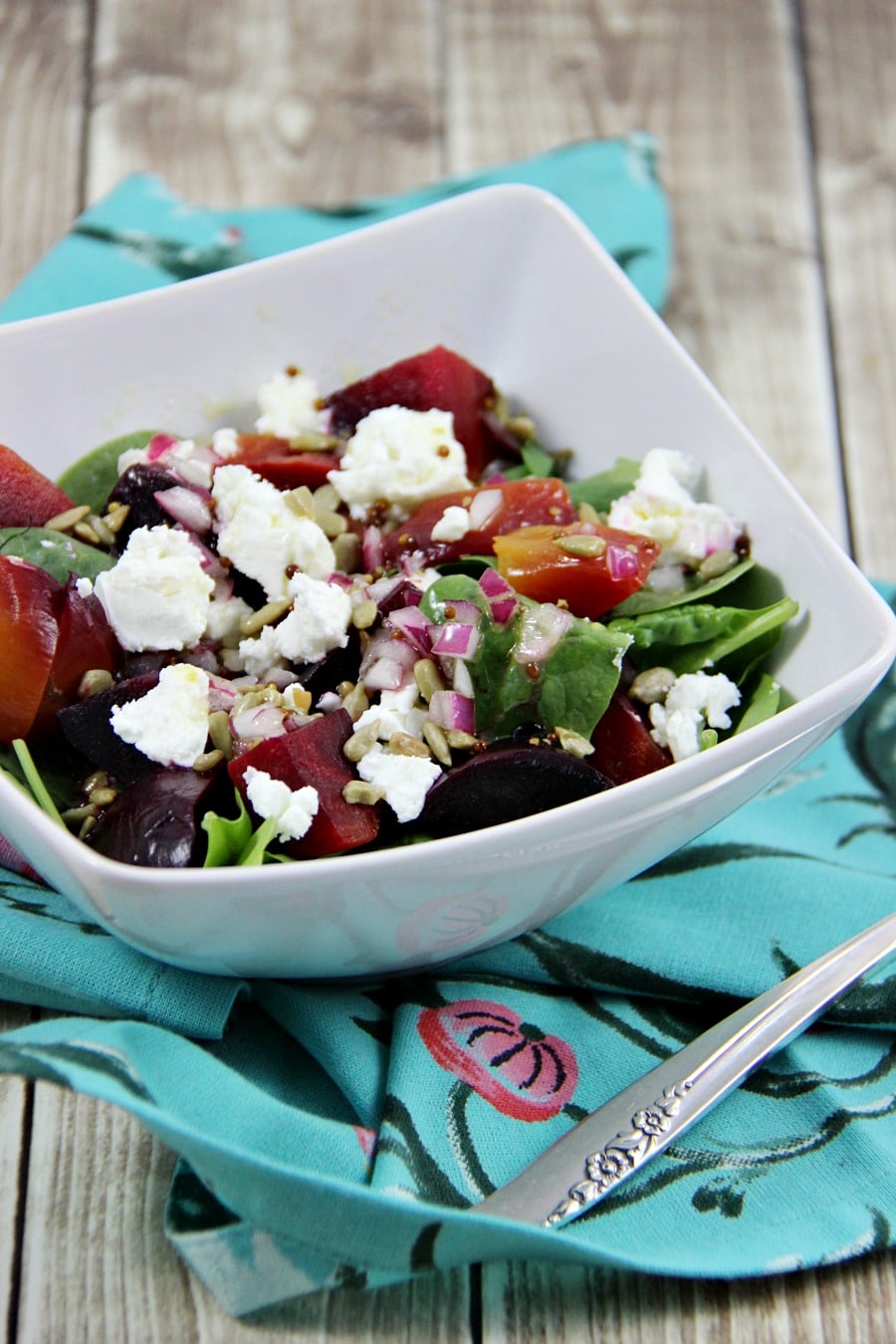 Honey White Wine Vinaigrette:
Ingredients:
2 tbsp honey
1.5 tbsp grainy dijon
3 tbsp white wine vinegar
1/4 cup minced red onion
1/2 tsp salt
1/4 tsp ground pepper
1 tbsp lemon juice
5 tbsp olive oil
Directions:
Whisk all ingredients together, pour into a mason jar or covered container and refrigerate until ready to serve.

Looking for other recipes using beets? Check out our
Oven Roasted Root Vegetables
and our 
Winter Salad Recipes
.