Zucchini is such a versatile vegetable.  We love it grilled, in soups and quiche and grated into pancakes but the absolute best way to eat it is in this Chocolate Chip Zucchini Bread recipe.  Moist, delicious and packed full of nutrients this zucchini bread recipe is a modified from Skinnytaste.com one of my favourite sites for delicious low fat recipes.
My version of Chocolate Chip Zucchini Bread has flax, a hint of cinnamon and a light sugar topping.  A family favourite through the summer and into the Fall when our local CSA farm share delivers more zucchini than we can grill!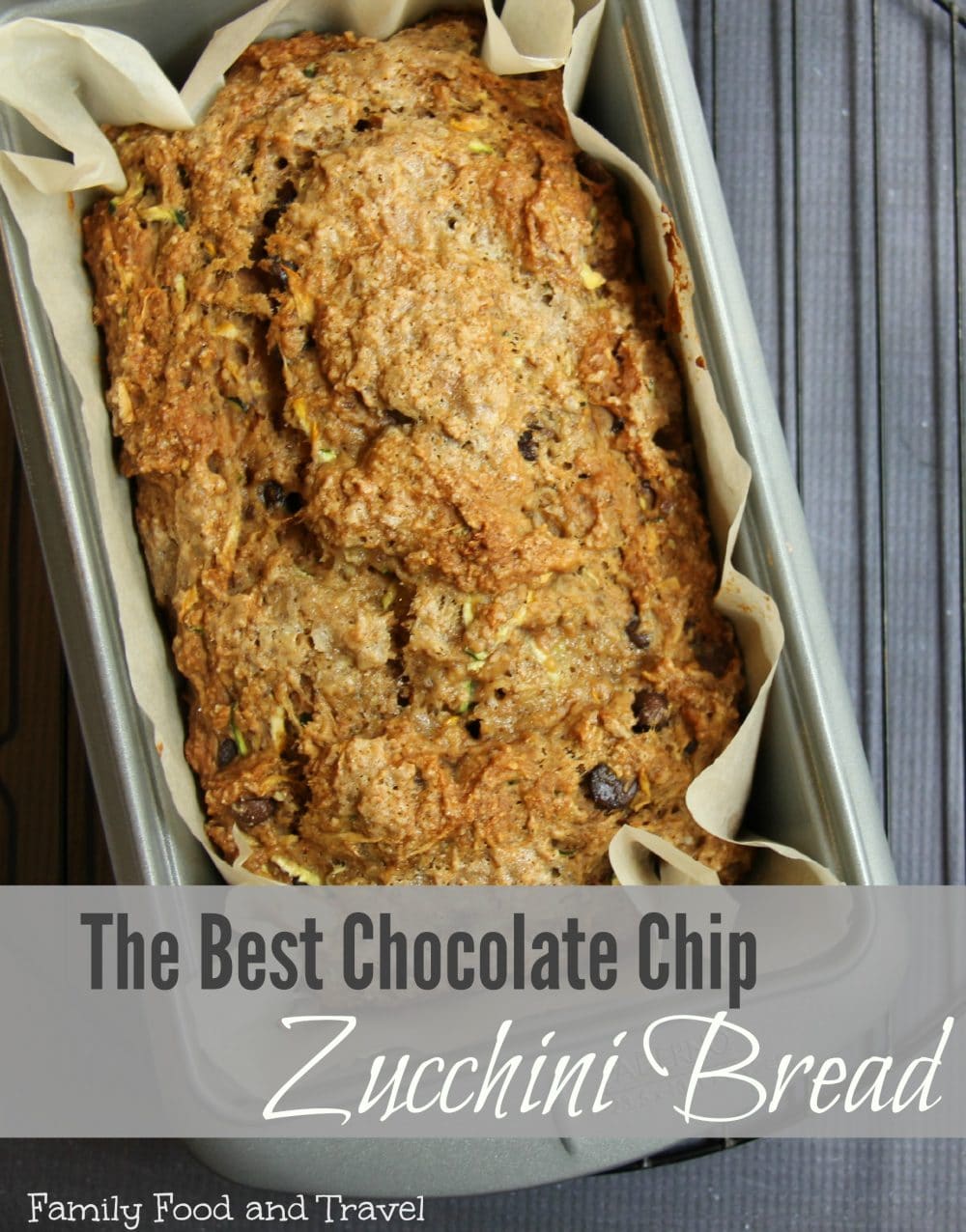 The Best Chocolate Chip Zucchini Bread Recipe
Author:
Modified from Skinnytaste.com
Prep time:
Cook time:
Total time:
Moist, delicious and loaded with nutrients this Chocolate Chip Zucchini Bread Recipe will be the best you've ever had!
Ingredients
1 cup all-purpose flour
1 cup whole wheat flour
2 tbsp ground flax
½ cup brown sugar
¼ tsp cinnamon
1⅛ tsp baking soda
½ tsp salt
½ cup chocolate chips
1 tsp vanilla
1 large egg
2 tbsp melted butter
1 cup unsweetened applesauce
1½ cups grated zucchini/summer squash
1 tsp sugar
Instructions
Preheat oven to 325F
Mix together flours, brown sugar, flax, cinnamon, baking soda and salt.
In a separate bowl mix egg, butter, vanilla and applesauce together.
Add zucchini to wet mixture.
Mix wet and dry mixtures together just until thoroughly mixed.
Add chocolate chips.
Line a loaf pan with parchment paper and pour mixture in.
Shake pan to get mixture to settle into parchment paper and trim and excess paper.
Sprinkle top with sugar.
Bake for 45-55 mins until a toothpick inserted comes out clean.
Let cool in pan then lift out with parchment paper.
Cut into slices and serve.
For this recipe I used a tiny zucchini and a larger summer squash giving it green and yellow colouring.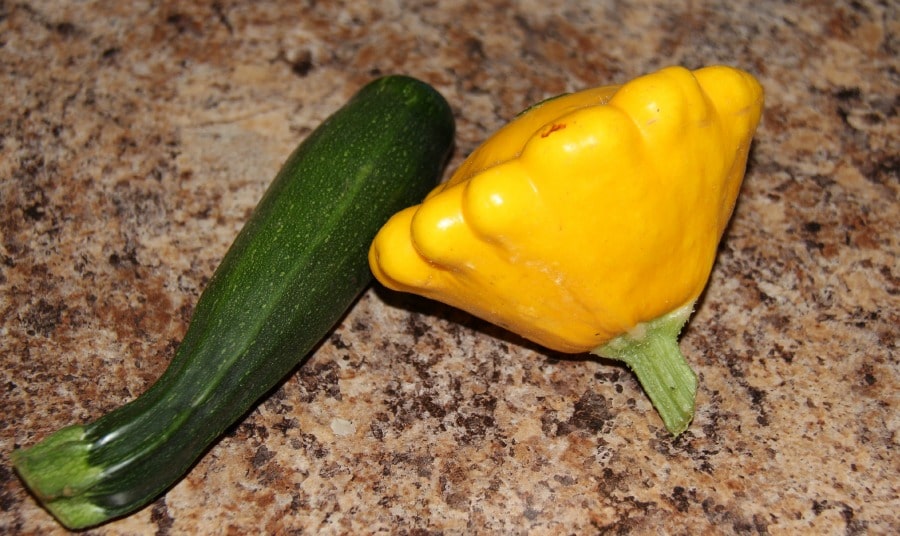 The variety of dry ingredients give the bread a complex taste.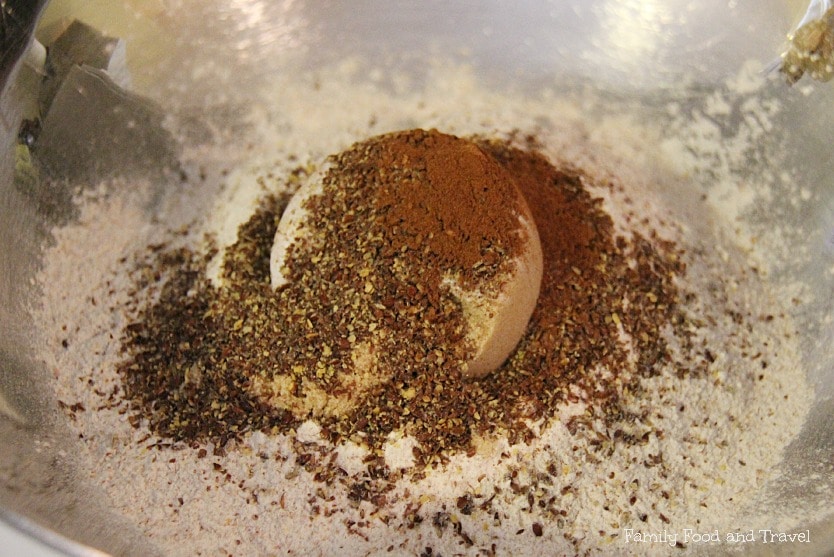 The mixture will be very thick and moist – this is what allows it to be so delicious when cooked.  Adding any more flour would result in a dry bread.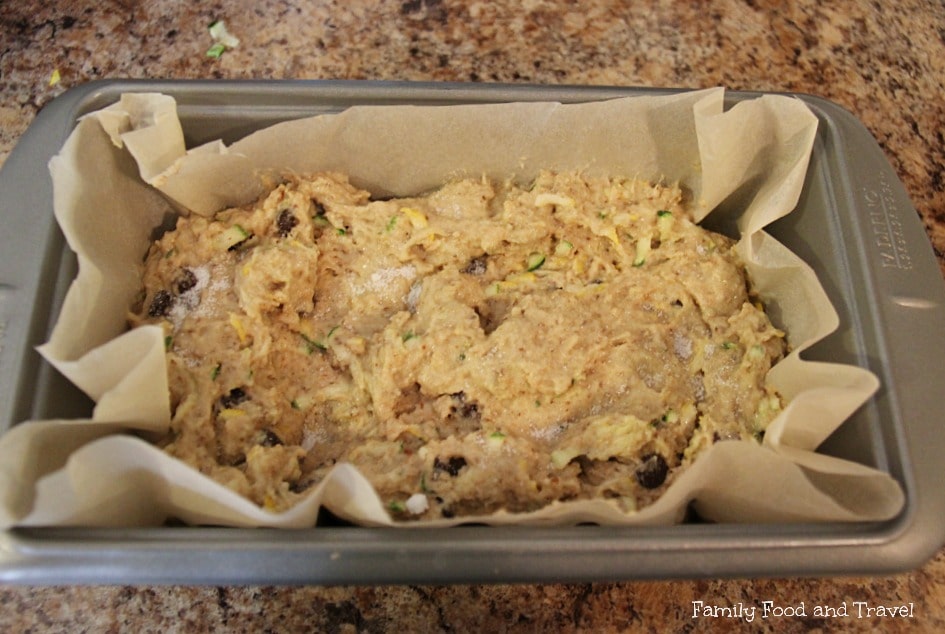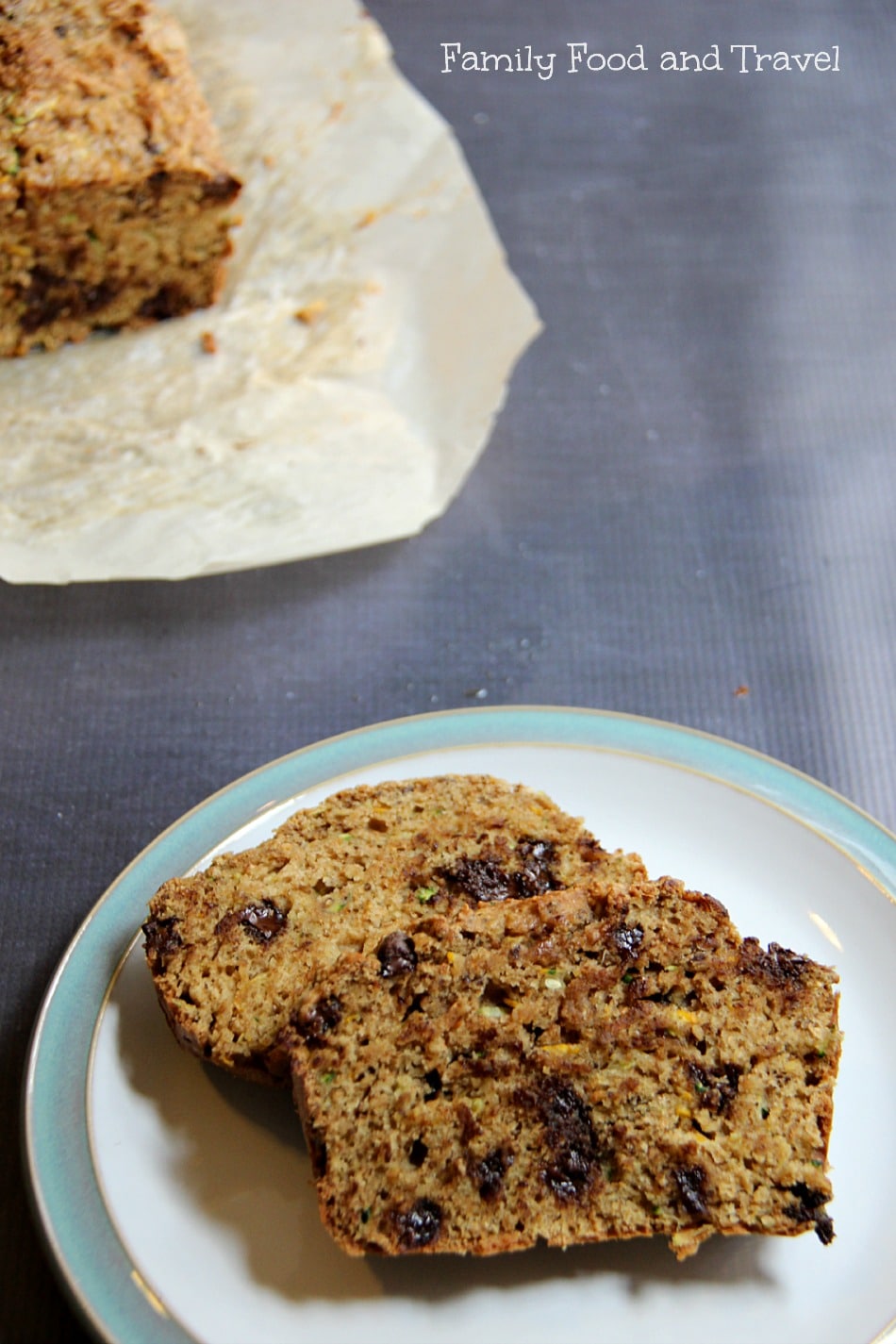 This recipe also makes great muffins – the perfect back to school lunch box treat!
Check out these other fabulous zucchini recipes Zucchini Tomato and Potato Casserole, Zucchini Lasagna, and Cheesy Zucchini Bake.