Tamales have been served in Latin American since pre-Hispanic times.  Tamales are one of my husband's favourite foods to eat for breakfast.  An easy meal, packed to go and filling for many hours.
This version is one of his favourite filled with delicious turkey and a fresh homemade tomato sauce they are little bundles of yumminess!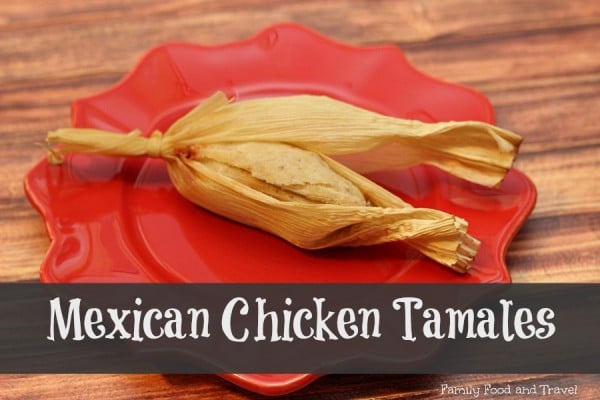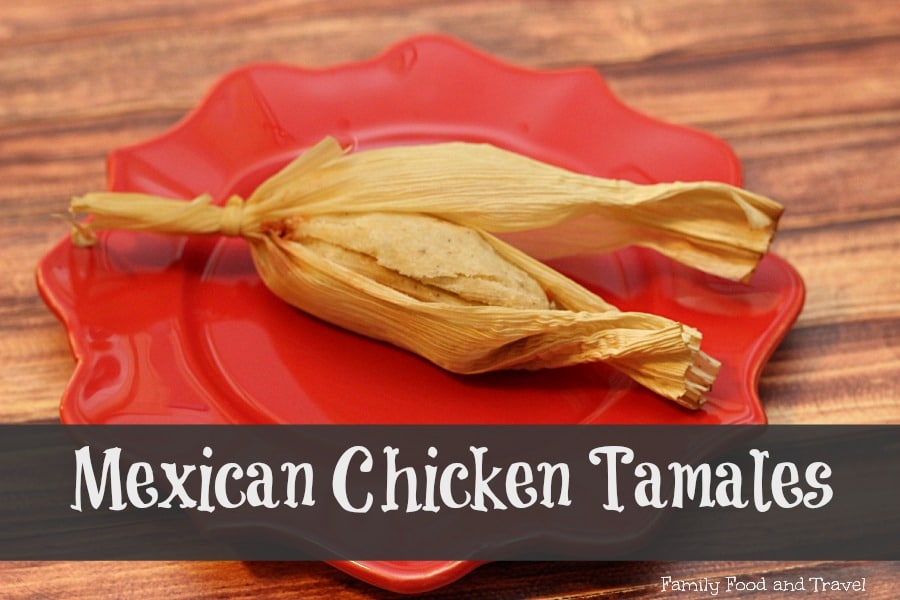 Mexican Chicken Tamales
Author:
Kerrie @ Family Food and Travel
Prep time:
Cook time:
Total time:
Serves:
12 people (2 pieces each)
A traditional Mexican recipe passed down for generations from my husband's family.
Ingredients
4 cups Tamale Corn Dough (found in any latin store or grocery section)
1 cup Crisco
1.5 cups chicken stock
1 tsp salt
1 tsp pepper
2 lbs cooked chicken (shredded or in cubes)
2 cups green salsa (or enchilada sauce)
24 corn husks
Instructions
In a a bowl mix corn dough flour, crisco, salt, pepper and stock, mix with your hands until mixture is a bit sticky.
Hydrate corn husks by putting in luke warm water in the sink or a bowl for 10-15 minutes.
Take a husk in your and hand and but a heaping tablespoon of dough and spread evenly on husk.
Add a small handful of chicken in the middle of the corn dough.
Top with 1 tbsp of sauce.
Add another tbsp of dough to cover chicken and sauce.
Fold corn husk being careful to keep all of the dough inside.
Tie ends with string or cut corn husk.
Repeat until all husks are filled.
Please tamales in a double boiler and steam for 2 hours. Check pot often and add more water.
When the tamales are done an inserted toothpick will come out clean.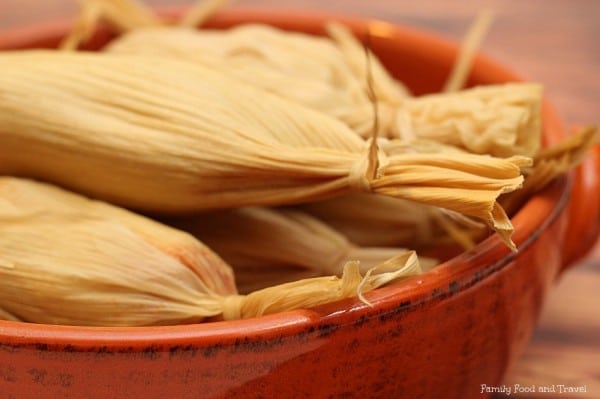 Check out these fabulous corn inspired dishes. Polenta Crostini, and Grilled Corn on the Cob with Cilantro Butter & Lime,