Dips are one of my favourite appetizers.  Since my grandmother first introduced me to hot crab dip as a child I was sold.  Anything with melted cheese is truly the key to my heart!
This dip is a combination of a favourite dips and light enough to serve in summer.  Plus, it's chock full of spinach and cottage cheese adding nutrients, protein and an unforgettable creaminess.  This Hot Cottage Cheese Spinach Dip is sure to please guests of any age and might be a clever way to get more spinach into your kids!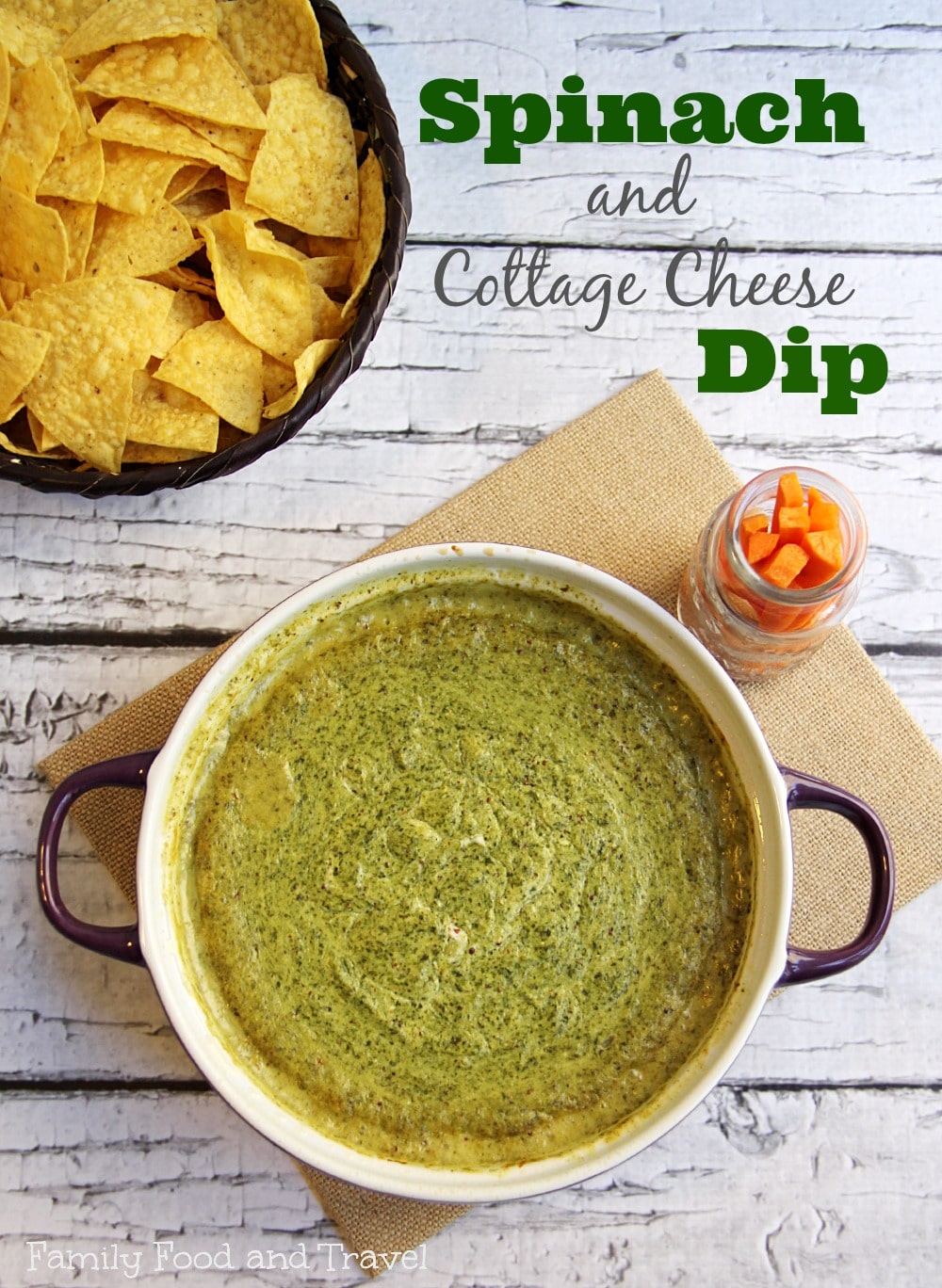 I that this dip is made from household staples.  So easy to whip up some dip for a tasty treat when you don't have to worry about getting to the grocery store to pick up a missing item.  For my house, each item in the dip is a staple so I can make this dip anytime which is perfect for when company is coming or I have spinach that has begun to wilt.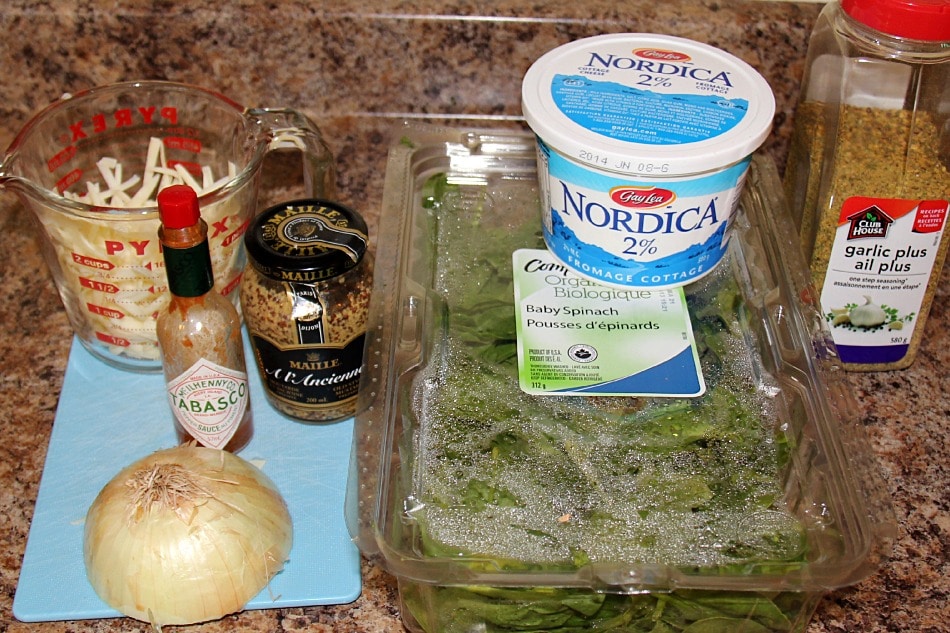 Hot Cottage Cheese Spinach Dip
Author: Kerrie @ Family Food and Travel
Recipe type: Appetizer
Prep time: 
Cook time: 
Total time: 
A delicious hot dip light enough for summertime and full of cheese and spinach. Perfect with carrots, celery, pitas or nachos for dipping.
Ingredients
2 tbsp olive oil
1 cup chopped white onion
6 cups of baby spinach washed and dried
1 tbsp Club House Garlic Plus (or 1 tsp garlic powder, ½ tsp salt, ½ tsp pepper)
2 tbsp reduced fat mayonnaise
2 tbsp grainy dijon mustard
¼ tsp Tabasco Sauce
1 cup grated cheddar cheese (I used Balderson Aged Cheddar)
To dip: Carrot sticks, Celery Sticks, Pita chips or Tortilla Chips
Instructions
Preheat oven to 400F.
In a large nonstick skillet add onion and garlic plus and cook 2-3 minutes until softened and translucent.
Add spinach and cook another 1-2 minutes stirring often until spinach is wilted. Set aside.
Place cottage cheese, mayo, mustard and Tabasco into a Vitamix or food processor and pulse until blended.
Add spinach mixture to Vitamix and pulse until desired texture.
Scrape inside of Vitamix into a greased baking dish.
Bake 25-30 minutes until browned and heated all the way through.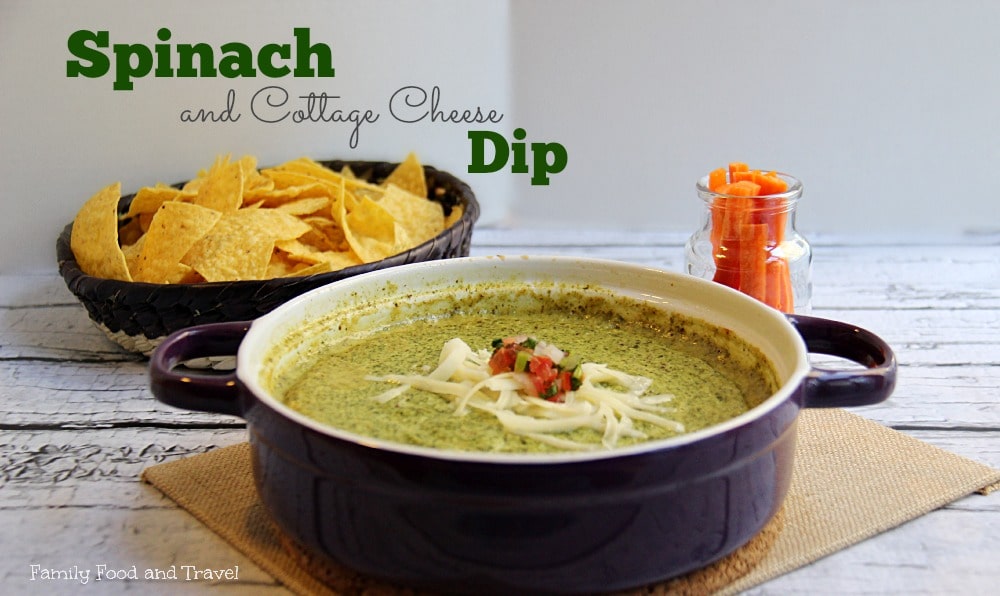 Looking for more fantastic Gay Lea Foods Recipes? Check out some of the delicious meals I've made including Lime and White Chocolate Scones, Black Forest Cupcakes, Mixed Greens and Cottage Cheese Stuffed Chicken , and Gay Lea's Blue Cheese and Spinach Dip
Disclosure: I am part of the Gay Lea Blogger Campaign with Mom Central Canada and I receive special perks as part of my affiliation with this group. The opinions on this blog are my own.