Three of my favourite things combined into an incredible burger.  All of the flavours combined are reminiscent of a steak house but truly unique.  This recipe is easy to make but friends and family will think you worked for hours to prepare.  Your secret is safe with me! I always use local beef and meats when making my own creations.  I love to  know where the cows grazed and that I am supporting a local farmer.  Plus, the taste is really phenomenal!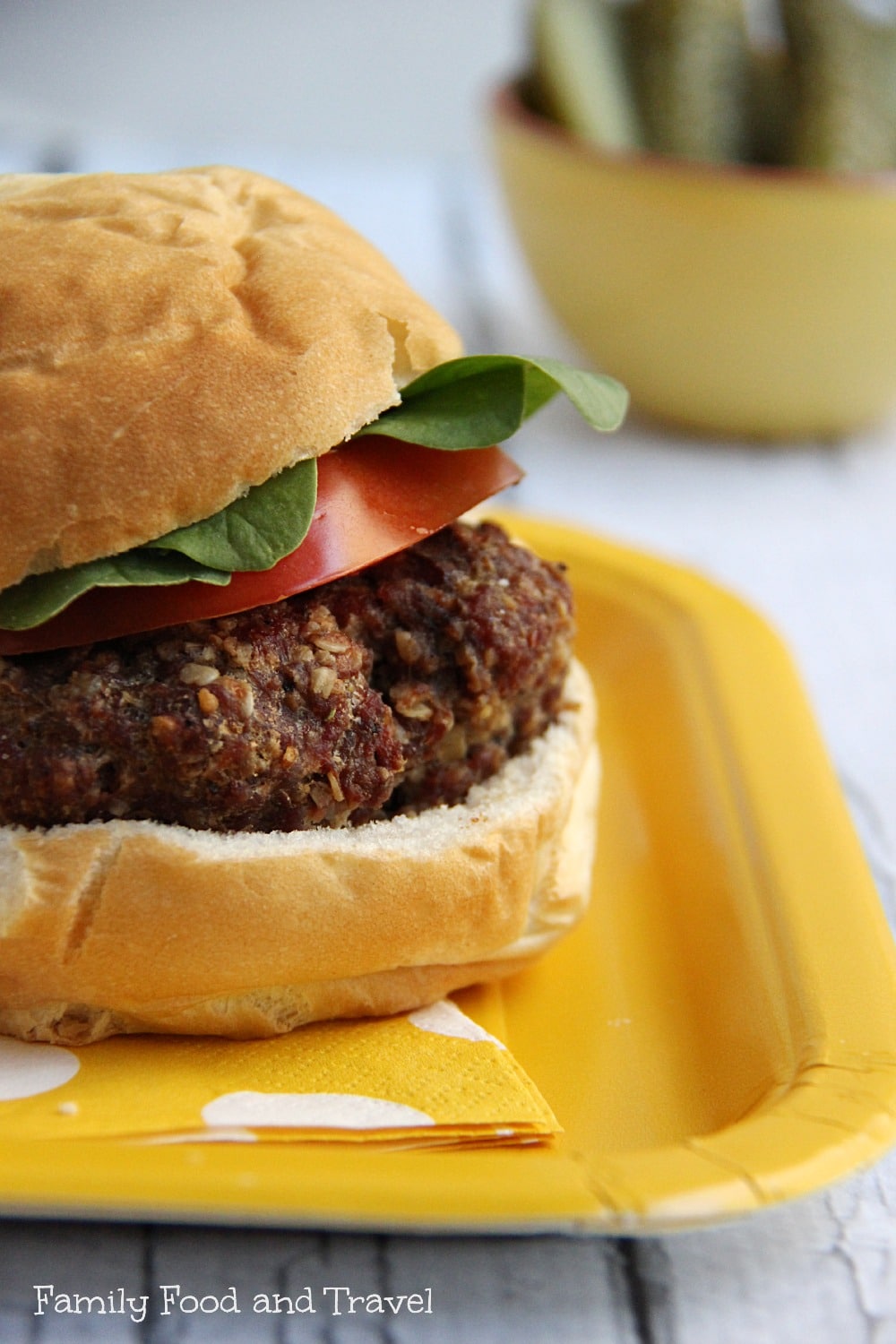 Bacon and Blue Cheese Stuffed Burgers
Author: Kerrie @ Family Food and Travel
Recipe type: Main
Cuisine: American
Prep time: 
Cook time: 
Total time: 
Serves: 12
Delicious burger full of flavour and stuffed with blue cheese and bacon. Perfect for a cookout, BBQ, or potluck your friends and family are going to love it.
Ingredients
2 lbs lean ground beef
2 eggs
2 tbsp Montreal Steak Spice
2 tbsp Worcestershire Sauce
1 cup quick oats
1 tbsp ground flax (optional)
3 oz blue cheese
4 slices cooked bacon
Instructions
Place ground beef, steak spice, oats, flax, and eggs into a bowl.
Mix until combined. Set aside.
Chop bacon and mix with blue cheese (I used a knife to further chop bacon while mixing)
Form round patties with beef mixture, leaving behind about 2 cups.
Make a well in the centre of the patties and distribute blue cheese and bacon mixture.
Add reserved beef mixture and reform patties ensuring cheese and bacon is completely covered.
Grill burgers for 4-5 minutes each side on a slightly oiled grill.
Serve with favourite summer side dish and a hamburger bun from your favourite bakery.
These burgers follow the steps of traditional homemade patties but include a step where you place the mixed blue cheese and bacon into the centre of the burger and cover with beef.  This ensures that the stuffing is placed inside the burger and won't melt out when cooked.  It also allows the flavour of the blue cheese to really spread through the burger giving the beef a delicious blue cheese taste without being overpowering.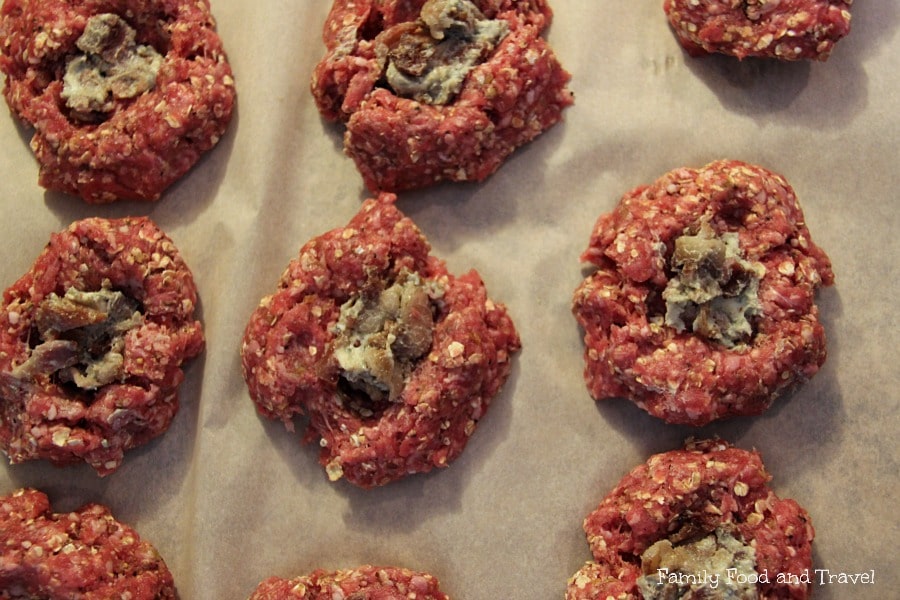 While these burgers being stuffed don't look very appetizing I can assure you the finished product is burger perfection!  And, if you don't like blue cheese substitute it for another sharp tangy cheese like aged cheddar. Happy grilling!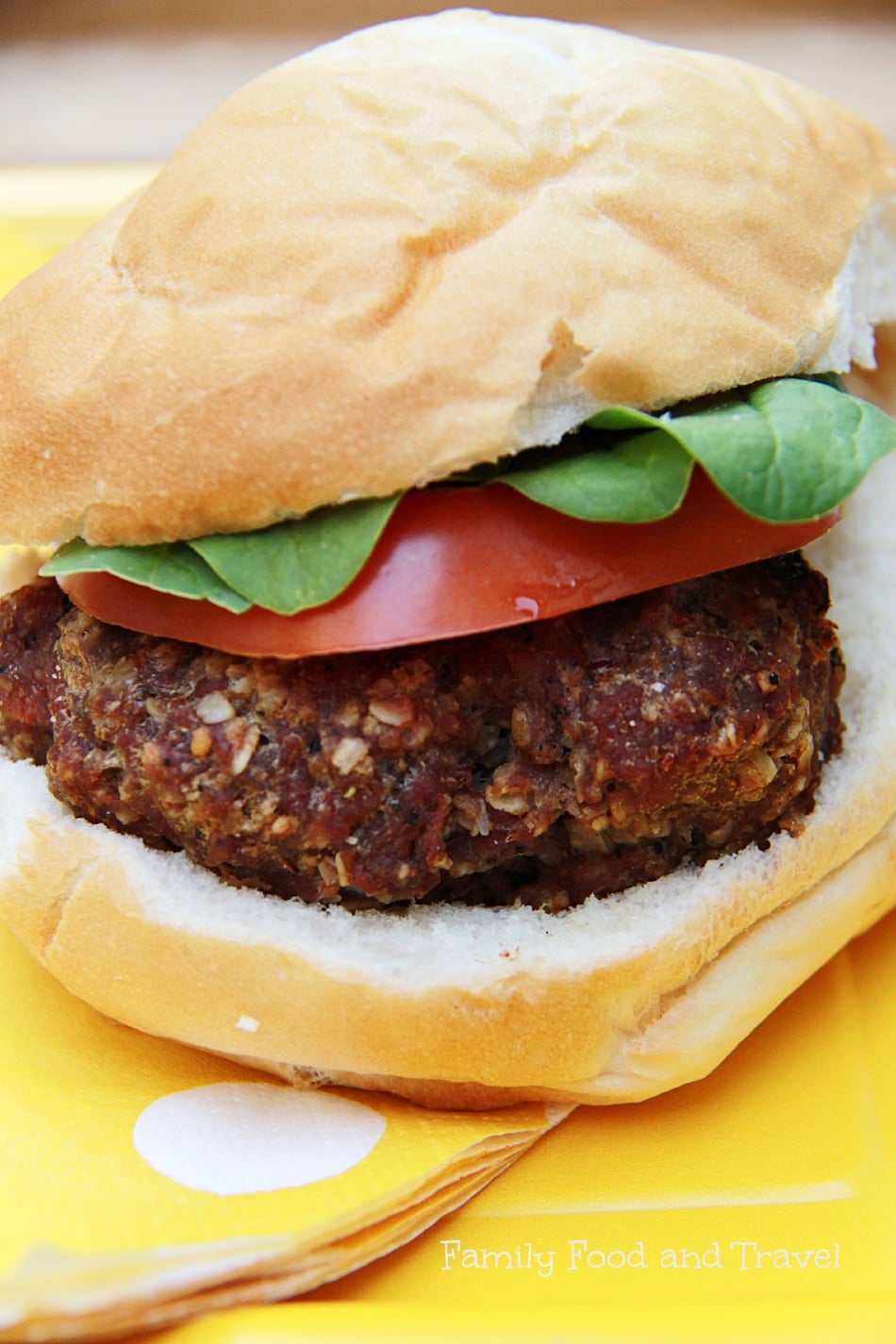 Looking for more great burger recipes?  These ones are perfect to satisfy those burger cravings.  Hamburger Pizza, Taco Salad, Jalapeño Goat Cheese Burgers, Paleo Chicken Burgers
Check Out These Awesome Posts