Wonderful Food Wednesday – Week #28
What a fantastic week we had last week.  With Spring in the air, we loved seeing all of the ideas for Easter, and St. Patrick's Day.
Can't wait to see what you've created this week!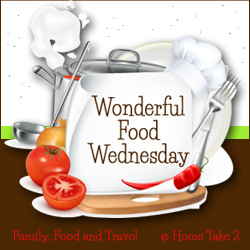 Rules:
1. Follow your hosts Kerrie @ Family Food and Travel
and Jessica @ AtHomeTake2  and Jamie at Mom's Test Kitchen
*If you are a new follower please leave us a message/comment so that we can hop on over for a visit.
2. Visit as many blogs as you can, leave comments, follow and grab their recipes.
If you are interesting in guest hosting for a week, please send an email to twinstravelblog (at) gmail (dot) com